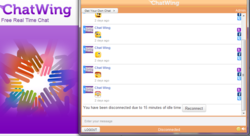 Sacramento, CA (PRWEB) July 20, 2012
Blogging has always been an avenue of information for a lot of people across the Internet. This is based on the numbers of blogs being created day by day. The Chatwing team, aware of this undeniable fact, has decided to expand to blogging communities by introducing a chat box capable of connecting many people to each other. The Chatwing chat tool has also been introduced in other blogging communities such as Blogspot and Wordpress.
Versatility is one of Chatwing's key features. It is versatile in the sense of topics that visitors can always discuss. The Chatwing team has noted that common topics in the free chatbox include technology, blogging tips, hobbies, humor, interests, fashion, current events, and the latest news about Hollywood stars. Bloggers who have used the early versions of Chatwing have seen high bursts of visibility for their blogs, some amounting up to 70%. The percentage depends on the content of the blog.
Users have also benefited a lot from the easy installation mechanism of the Chatwing tool. Installation of the chat widget takes only a few seconds, even though a brief customization process is included. As for customization, a user will have the opportunity to change the height, width, color, and title of the widget. This is a useful technique when it comes to blog theme synchronization. The Chatwing team has noted that picking the right mix of colors can really affect the influx of visitors in a blog. After the customization process, Chatwing will generate the HTML code and the user can retrieve it. The embedding process of the HTML code can be done instantly.
To deal with the projected influx of bloggers in the coming months, the developers of Chatwing are always keen on observations. Adding to that, they will also introduce various upgrades to ensure that the free chat box will function normally without technical glitches. In case of glitches, the Chatwing team is always ready for further maintenance schedules. In a general sense, the Chatwing team is always looking forward to offer an entertaining website chat experience for everyone.
About Chatwing.com
Chatwing.com specializes in the new field of website chat. Over years, the Chatwing team has introduced live free chat widget for hundreds and thousands of blogs. The Chatwing application bridges people from many parts of the world, creating global synergy through the Internet. The shout box can be installed in just seconds, and it can be used for varying purposes such as leisure and Internet marketing. It also allows a user to customize the shoutbox size, color, and name of the widget. Chatwing is 100% free for everyone.