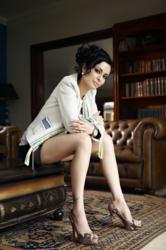 I feel honoured to be selected by Management Today as one of 35 young female high achievers, Says Faiza Seth (CEO Casa Forma).
(PRWEB) July 20, 2012
In July 2012 Faiza Seth of Luxury Interior Design Firm Casa Forma appears in Management Today's list of young female high achievers.This Olympian year of all-comers is a vivid reflection of wider British enterprise, energised as it is by self-starters whose origins lie beyond our shores.
What happens when you put five women born in Britain, Kazakhstan, the US and South Africa in a room together? The answer is 2012's '35 Women Under 35' cover shoot. This year's list is all about migrants and daughters of migrants - 14 of this year's 35 women are foreign or have a foreign parent or parents. Aside from those already mentioned, the nations represented here are: Australia, Brazil, Bulgaria, Finland, Greece, India, New Zealand, Romania and Venezuela. It couldn't be more appropriate for an Olympic year.
London is a melting pot of global talent and its open policy towards immigration has always provided a gateway for this talent to help boost industry and the economy. However the potential restrictive immigration laws being introduced by the Coalition government, who have introduced limits on the number of workers who can come to the UK can potentially hinder this attraction to the best calibre people globally. The UK business would be much less international in outlook, diverse and energetic without the people who have taken a risk in coming here.
The 2012 list of '35 Women Under 35' shows just how much migrants contribute to the economy of this country, and the UK has a reputation for welcoming those who want to come here to work. Why would we want to give them the cold shoulder now?
Faiza Seth (34) launched luxury award-winning interior design business Casa Forma in 2006, and in 2010 founded charity Soham for Kids, a free school for underprivileged children in Hyderabad. She moved to Chicago from India as a child and studied economics at Northwestern University. She began her career at Lehman Brothers in Hong Kong, before taking an MBA at Stanford.
"I feel honoured to be selected by Management Today as one of 35 young female high achievers," Says Faiza Seth (CEO Casa Forma).
Casa Forma is an international practice providing a comprehensive architectural and interior design service for residential, commercial and hospitality properties. Their experienced team of interior designers is led by world-class experts from the fields of decorative and structural design. Casa Forma places absolute importance on understanding the particular needs and wishes of their clients for a personalised service delivered to an uncompromisingly high standard.
Please visit Casa Forma at http://www.casaform.co.uk for more information.