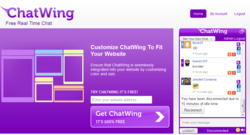 Pittsburgh, PA (PRWEB) July 20, 2012
Releasing applications today apparently becomes easier with the help of social media. This fact is based on the global potential rate of social networking sites, such as Facebook and Twitter. Keen on this fact, the Chatwing team has developed a global chat box that can help people gain communication leverage in the long run. The Chatwing chat tool is known for its ease of access and high rate of global connectivity. Additionally, the Chatwing chat tool can be used for a myriad of online purposes.
Chatwing's universality can be measured by the purposes that it can cover. One of the most common purposes of the Chatwing chatbox is website interaction. This type of interaction can affect the visibility of any blog or website. Chatwing does this by transforming the blog into an active chatting lounge filled with various topics. Rather than wait for blog comments, users can now receive admin updates and messages in real time. This is why online sellers have been relying on the Chatwing app for quite some time already. Social media sharing is also a strong feature, allowing users to expand their social networks with relative ease.
Chatwing also offers an easy installation mechanism for all of its users. The Chatwing team has recently noted that the chat widget can be installed in under ten seconds, depending on the preferences of the user. Longer time is usually spent in the customization process because users tend to be picky regarding the proper color mix of the widget. This is useful because appearances mean a lot for visitors. A blog with colors in disarray may affect the overall influx of visitors, raising or lowering visibility.
The Chatwing development team will always introduce the free chat box to various online communities, forums, and message boards. In this way, many people will be able to use the Chatwing chat tool with high functionality. As a bonus, the Chatwing team will maintain a reliable blog and Facebook page filled with informational content about the necessities and importance of the free shout box.
About Chatwing.com
Chatwing.com specializes in the new field of website chat. Over years, the Chatwing team has introduced live free chatbox for hundreds and thousands of blogs. The Chatwing application bridges people from many parts of the world, creating global synergy through the Internet. The shout box can be installed in just seconds, and it can be used for varying purposes such as leisure and Internet marketing. It also allows a user to customize the size, color, and name of the widget. Chatwing is 100% free for everyone.