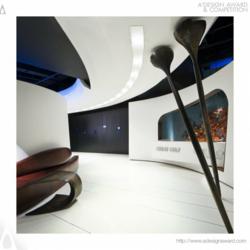 Como, Italy (PRWEB) July 18, 2012
A' Award and Competitions are proud to tell that the work One Bloor by has been announced as a winner of the prestigious Silver A' Design Award at Interior Space and Exhibition Design Competition marked as one of the winners by the respected judging committee of the A' Design Awards & Competitions among thousands of participants.
Winner Design: One Bloor
Cecconi Simone, the designer of the awarded design One Bloor demonstrates "The One Bloor presentation centre is a total environment. It uses innovative construction, materials and technology to present the ambiance of the upcoming 75-story condominium in an area of just 223 m². Conceived as a space-in-a-space, the showroom is created from a suspended grid and moulded metal frame, which mimics the curvilinear profile of the future hi-rise. Fixtures and finishes are fixed to these structures, with little contact with the existing envelope. The presentation centre's sculpted interior guides visitors through the galleries where the story of the planned tower unfolds." Learn more about this design: http://www.adesignaward.com/design.php?ID=25444
The Silver A' Design Award
The Silver A' Design Award is a prestigious award given to top 5% percentile designs that has achieved an exemplary level of in design. The designs are judged by a panel of three different jury which is composed of Academic, Professional and Focus Group Members. The designs are evaluated with score normalization to remove any biases and are voted on aspects such as functionality, ergonomics, engineering, presentation, innovation, usability, fun details, technology, and any other specific points that could be considered, each of these points are further weighted for different jury groups.
About A' Design Award and Competitions
A'Design Award and Competitions, aims to highlight the excellent qualifications of best designs, design concepts and design oriented products. A' Design Award and Competitions are organized and awarded annually and internationally in multiple categories to reach a wide, design-oriented audience. Learn more at: http://www.whatisadesignaward.com