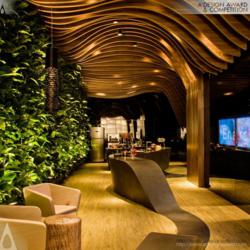 Como, Italy (PRWEB) July 18, 2012
A' Award and Competitions are happy to share that the project Chef Kitchen and Lounge by Fernanda Marques Arquitetos Associados has been acknowledged with the famous Golden A' Design Award at Interior Space and Exhibition Design Competition highlighted as the winner by the respected awarding commission of the A' Design Awards & Competitions amidst a great number of designs.
Concerning Chef Kitchen and Lounge
Fernanda Marques, the designer of the winning project Chef Kitchen and Lounge explains, "Project conceived for the 2009 Boa Mesa Exhibit, On a 194 square meter area, Fernanda presented a very peculiar version of the contemporary kitchen: one of the most sought after spaces in the show. The wooden ceiling, made of sheets is remarkably organic and is the great highlight of the project. The sculpture-like deck, developed by Corian Dupont.It draws attention for its sinuous shape and for its multifunction quality: presenting itself at times as work bench for the chef, at other times as a bench, and at other times as a bar, until it is finally incorporated to the wooden ceiling." Learn more: http://www.adesignaward.com/design.php?ID=25518
The Golden A' Design Award
The Golden A' Design Award is a prestigious award given to top 3% percentile designs that has delivered an exemplary level of sublimity in design. The designs are judged by a panel of three different jury which is composed of Academic, Professional and Focus Group Members. The designs are evaluated with score normalization to remove any biases and are voted on aspects such as functionality, ergonomics, engineering, presentation, innovation, usability, fun details, technology, and any other specific points that could be considered, each of these points are further weighted for different jury groups.
About A' Design Award and Competitions
A'Design Award and Competitions, aims to highlight the excellent qualifications of best designs, design concepts and design oriented products. A' Design Award and Competitions are organized and awarded annually and internationally in multiple categories to reach a wide, design-oriented audience. Learn more at: http://www.whatisadesignaward.com