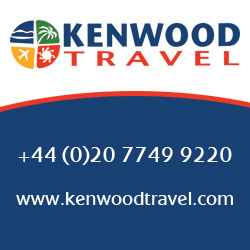 Jamaicans in Canada: When Ackee Meets Codfish records and shares the impact of Jamaicans in Canada over the centuries
(PRWEB UK) 18 July 2012
As experts in providing package holidays to Jamaica, Kenwood Travel has joined the celebrations for Jamaica's 50th anniversary of independence (1962 – 2012). Kenwood Travel talked to Kamala-Jean Gopie about Jamaicans in Canada: When Ackee Meets Codfish – a celebratory book which features profiles of 250 Jamaican-Canadians including doctors, lawyers, teachers, scientists, politicians and athletes.
According to Gopie, the book is to "record and share the impact of Jamaicans in Canada over the centuries.
"My hope is that the book will provide a more balanced portrayal Jamaicans in Canada to counteract the image presented in news headlines about the criminal activities of 'young punks'. We have a story to tell of immigration, adaptation, settlement, integration and contribution and it becomes our duty/responsibility to record for the benefit of our children and the wider Canadian public," she added.
The complete interview is available in the Kenwood Travel blog
About Kenwood Travel:

Kenwood Travel provides an easy, fast and personal way to book holidays at substantially reduced prices.
To contact Kenwood Travel consultants, the telephone number is 020 7749 9220
To book holidays to Jamaica or Canada visit http://www.kenwoodtravel.com/caribbean/jamaica-holidays/ or http://www.kenwoodtravel.com/canada-holidays/ respectively.
Kenwood Travel is a direct sell tour operator with over 35 years experience and member of ABTA and ATOL holders (5664).
Kenwood Travel are experts in affordable worldwide luxury package holidays, tailor made holidays, weddings, honeymoons or flights and flydrives.
Kenwood Travel contracts directly with the airlines and hotels to ensure there is no middleman taking a commission on the holiday.
Kenwood Travel offers a range of different holiday destinations around the globe including the USA, Caribbean, Middle East, Far East, Indian Ocean and Australia and they have a selection of Family Holidays to suit all tastes and budgets.