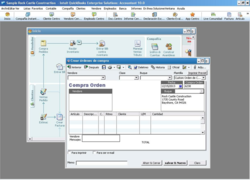 San Jose, CA (PRWEB) July 19, 2012
LinguaNext, Inc., the leader in enterprise software language management, today announced that it has updated LinguaPack™ – QB to offer full Spanish-language support for QuickBooks 2012. LinguaPack is a software translation package that runs independently of QuickBooks and does not alter the underlying application or accounting data. It is the only way to get all of the functionality in the latest release of QuickBooks in Spanish.
"QuickBooks is one of the most feature-packed, flexible and easy to use accounting packages for small businesses, but it simply does not have a Spanish-language version. Yet millions of small businesses right here in the United States are owned and operated by Spanish-speaking people," said Atul Tulshibagwale, CEO of LinguaNext. "Recognizing that, we have brought our innovative translation technology that is trusted by many of the world's largest banks and corporations to QuickBooks. Now everyone can get the power of QuickBooks in Spanish."
LinguaPack – QB translates all QuickBooks screens, including the user interface and accounting functionality, as well as all printable checks and reports into Spanish. The software enables the user to toggle between Spanish and English instantaneously as needed. Getting started with
LinguaPack – QB is as easy as downloading the software and installing it and then simply launching QuickBooks in Spanish with a single click – no complex configurations or long setup process is required. LinguaPack – QB works with the QuickBooks 2011 and 2012 Pro, Premier and Enterprise Editions .
LinguaPack – QB is available now, and can be purchased online or downloaded for a 15-day free-trial from: http://www.linguapack.net/.
In addition to its web-based distribution model, LinguaNext is currently looking for partners and resellers who are interested in promoting and selling LinguaPack QB in the United States and South America. Contact LinguaNext at: resell-lp(at)linguanext(dot)net to learn more about the LinguaPack Reseller Program.
About LinguaNext
LinguaNext is the market leader in enterprise application language management and has transformed the way global corporations address multi-language and local language support for their information technology systems. With a roster of over 60 large enterprise customers including 25 of the Forbes Global 2000 and a deployed base of over 1,000,000 end users, LinguaNext is fast becoming the de facto standard method of adding language capabilities to all enterprise applications. LinguaNext's innovative technology-based solutions enable any enterprise, mobile or cloud software system to work in any language, seamlessly and with zero changes to the underlying application code. Learn more at http://www.linguanext.net.
Contact:
LinguaNext, Inc.
Christopher Lanfear
chris(at)linguanext(dot)net
LinguaNext, Linguify, SPeeD Suite, LinguaPack, ReportTrans, Indify, Linguify.Reports, Linguify.Banks and Phrasier are trademarks of LinguaNext or its subsidiaries. Any other company, product or service names mentioned above are the registered or unregistered trademarks of their respective owner.