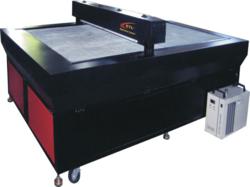 (PRWEB) July 19, 2012
As one of the major supplier of laser machines based in China, Eastern Laser now announces the release of ET-1290 laser cutting machine. ET-1290 laser machine has a number of technical features which will get the job done on the machine easier and more productive for automate business processes.
The features of this new laser cutter are as follows:
FLASH-ROM - board memory to store files in a laser machine and run without a computer, causing the program execution from the memory of the laser machine. The amount of internal memory is 32 MB.
FLASH-IN - the ability to record the laser machine files from the flash drive (flash drive) without a computer.
It is equipped with the motherboard MCP6535 with the DSP processor.
It is equipped with a lifting and descending table, which allows users to handle oversized materials and products, as well as to connect the rotator. Lowering height of the machine is 300 mm.
"Through Table" back side of the laser machine has a lid that can be easily removed, allowing users to place the overall materials in handling area.
It is equipped with a LCD display with a keyboard, which makes work on the laser machine comfortable and functional.
It is equipped with a rack and pinion anodized aluminum desktop (lamellae) that extends the possibilities of materials processing and absorbing excess capacity.
It is equipped with USB port, allowing users to connect and disconnect the machine from a computer laser connecting the USB cable.
It is equipped with an emergency stop button for a quick stop of the laser machine, if necessary.
There is a tinted glass in the top of the machine that protects the eyes from the laser operator.
Overall, ET-1290 laser cutting machine is highlighted by the desktop for easy and comfortable operation. For the ease of maintenance, this machine includes removable doors to facilitate access to sites... The design of the machine allows its disassembly and assembly for installation in rooms with narrow stairways and passageways door.