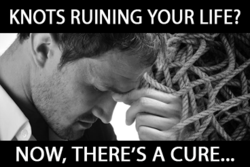 The Super Rope Cinch cures the fictitious condition known as Knotaholism.
Brentwood, TN (PRWEB) July 19, 2012
Just Right Products LLC has just launched what it hopes will be a viral media campaign to promote its patented Super Rope Cinch knot tying device.
The humor-based media campaign uses the term Knotaholic in reference to a fictitious condition for people who have difficulty tying or untying rope knots. The cure is the Super Rope Cinch device, which allows anyone to tie and untie rope with only a twist.
The Super Rope Cinch sprang into retail in June of 2011, and gained over 10,000 retailers in just six short months - A somewhat rare success story when compared to most new boating and/or hardware products.
The immediate success of the Super Rope Cinch is based on the simple problem it solves - Tying and untying knots. The Super Rope Cinch eliminates the need for tying and untying knots, and is typically priced under $5 dollars at most retailers.
Currently, the Super Rope Cinch is a very popular item at hardware and lumber stores, and is quickly gaining interest in the boating community thanks to the number of ropes or lines boaters typically use when securing boats and personal watercraft.
The Super Rope Cinch Knotaholics campaign is currently underway on Facebook, Twitter, Knotaholics.com, Knotaholic.com and Knotaholism.com