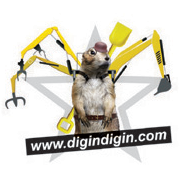 Montreal, Quebec (PRWEB) July 18, 2012
In an attempt to effectively provide design services which are of high quality, digindigin.com has just announced that it will be organizing a postcard or flyer contest to talented designers who are interested. The online logo company is composed of highly talented designers who have been instrumental in providing quality services to customers. The company aspires to use its innovative and life changing crowd outsourcing contests to offer designers with talent join their ever growing online community of talented designers. The contest is open to all individuals who harbor desire to be part of the dynamic and highly talented digindigin.com online community of designers.
Digindigin.com continues to offer opportunities to individuals who are talented to join its online community of dynamic designers. The contest is meant to provide various designers with an opportunity to showcase what they are capable of as well as get a once in a life time opportunity of becoming a member of the prestigious digindigin.com elite designers. Digindigin.com is known for its high quality logo designs which have been instrumental in propelling them to greater heights. Organizing the contest is one way of ensuring that individuals get an opportunity to showcase their talents under the guidance and steward ship of highly qualified professionals.
Digindigin.com has an easy to navigate website where customers can get all the information about the qualifications to the contest as well as what is required of them to enter. Individuals who want to participate in the contest can simply make use of the hotline number provided on the website to get clarification from the customer support staffs. The dedicated staffs are available 24/7 to attend to clients needs and meet and provide clients with sufficient information. The fact that the site is easy to navigate has made it practically simple for individuals to get all the information that they need.
For more information, individuals can visit the site http://www.digindigin.com/ and get all the information that they want concerning postcard or flyer contest. The site is quite informative and resourceful and all that individuals need to do is getting acquainted with the rules and regulations governing the contest. A person intending to take part in that contest should be able to effectively understand the concept of quality as well as customer satisfaction. This is because all designers that make up the digindigin.com online community are versed in customer satisfaction and quality. This is the reason why businesses and individuals keep coming for their services.
A look into digindigin.com
Digindigin.com is a top logo company known for its unique designs and excellent service delivery. The company has a pool of highly talented and dynamic designers who have been at the forefront of designing unique logos that conform to the needs and expectations of customers. Digindigin.com attention to detail and emphasis on quality has propelled the site to greater heights of success in the word on logo designs. Digindigin.com is a division of 123inkcartridges.ca