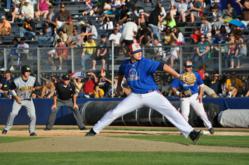 Farmington, N.M. (PRWEB) July 19, 2012
The ten best baseball teams winnowed from hundreds of competitors, in ten regional tournaments, will be flown free-of-charge to compete in Farmington August 3 through 10. They will be met by a police escort, greeted by dignitaries at the Civic Center, offered free lodging by host families and honored in a parade, waving at crowds from colorful floats decorated by local civic groups. "It's magical," says Ken Guthrie who coached the DBAT Mustangs in 2010, "Baseball in its purest form."
In return for the hospitality, locals, visiting families and scouts from colleges and the big leagues are treated to, many say, the best amateur baseball in the country.
The talented players who come to the Connie Mack World Series not only hope their team will win. They also play to attract the attention of baseball scouts from colleges and the major leagues. Professional players who played in Farmington include Manny Ramirez and Ken Griffey. Cal Ripken, Jr. Edgar Martinez, Ivan Rodriguez, Barry Larkin, Ozzie Smith and Derek Jeter are all products of the Connie Mack program.
Farmington also rolls out the welcome mat for baseball fans, 85,000 attended the series last year. The very affordable general admission tickets are sold daily when the ticket booth opens one hour prior to game time. Tickets for one game are $3 for students and $4 for adults. Double-Header tickets are $3.50 for students and $4.50 for adults. The City also provides a shuttle service from distant parking lots.
For local businesses Connie Mack is also a winning proposition. Each summer there is a boost in their bottom line from the influx of players, their families and a growing number of fans. Their advertising in turn supports the program.
In 2012 the lineup includes the teams for New York and Dallas metro areas and from Florida, with more regional playoffs this week. A Farmington [Connie Mack website provides complete information on teams in the Connie Mack World Series and game schedules.
The Farmington Convention & Visitors Bureau has a website at and a toll free number, 800-448-1240, for questions about accommodations and many things for baseball fans to see and do in the region.