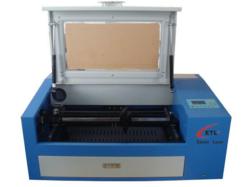 (PRWEB) July 21, 2012
Eastern Laser launches small sized CO2 laser cutting machine, which is equipped with an entry-level laser system that is the perfect choice for starting a business. With power choices of 30 or 40 watts, this small sized CO2 laser cutter is able to engrave and cut a wide variety of materials perfectly.
Laser Source
State-of-the-art, digitally controlled, air-cooled CO2 laser tubes are fully modular, permanently aligned and field replaceable.
Air Assist
Attach an air compressor to our included Air Assist to remove heat and combustible gasses from the cutting surface by directing a constant stream of compressed air across the cutting surface.
Laser Dashboard
The Laser Dashboard™ controls your Epilog Laser's settings from a wide range of software packages - from design programs to spreadsheet applications to CAD drawing packages
Red Dot Pointer
Since the laser beam is invisible, the Red Dot Pointer on Epilog's Zing Laser allows you to have a visual reference for locating where the laser will fire.
Relocateable Home
When engraving items that are not easily placed at the top corner of the laser, you can set a new home position by hand with the convenient Moveable Home Position feature on the Zing Laser.
Operating Modes
Optimized raster, vector or combined modes
Motion Control System
High-speed micro stepper motors
X-Axis Bearings
Shielded Roller Bearing Assembly on a Ceramic Coated Aluminum Guide Rail
Resolution
User controlled from 100 to 1000 dpi
Speed and Power Control
Computer or manually control speed and power in 1% increments to 100%. Vector color mapping links speed, power and focus to any RGB color.