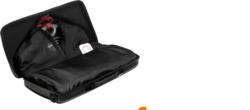 This brand uses NASA-spec materials, TPS (Thermal Protection System)
Kent (PRWEB UK) 19 July 2012
LAT_56° is designed in Scotland at 56 degrees north. LAT_56° performance luggage and accessories are created to make life move much faster whilst travelling. Cabin size luggage simply means less waiting time which fits right into our fast moving world culture. This brand uses NASA-spec materials, TPS (Thermal Protection System) which gives the reassurance that even the most fragile of materials are travelling and arriving with you crease free.
Managing Director, Andy Steadman, says that "The LAT_56° brand is great for accessorising existing luggage, but really ideal for light travelling with cabin specs and maximum internal packing space."
Luggage Superstore is still in the process of adding more of LAT_56° products to provide an even wider variety in this sophisticated brand. One of the biggest bonuses is that every product is warranted to be free of defects in workmanship and materials - for life.
Luggagesuperstore established site is in West Kingsdown, Kent. Their aim is providing competitive prices of the highest quality luggage and top calibre Customer Service for online luggage shopping.
Trina Chee-a-kwai
Luggage Superstore
01474 854666
Email information