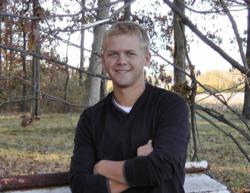 Dallas, Texas (PRWEB) July 18, 2012
Kalkomey Enterprises, Inc., an official provider of safety education products for hunters, boaters, snowmobilers and off-road enthusiasts, named Mitch Strobl specialist of business development and communications. Strobl will work to create new business opportunities that enable state agencies to reach more enthusiasts with the information and training they need to safely enjoy the outdoors.
Strobl, a recent graduate of DePauw University, started in outdoor communications by interning with the Professional Outdoor Media Association and freelancing for several companies such as huntinglife.com. He has worked as a writer, photographer and videographer with a focus on taking veterans with disabilities hunting and introducing youth to the outdoors. In addition, Strobl started the DePauw Conservation Club and the DePauw Trap and Skeet Club while he was a student at that university. Currently, he is serving as co-chairman of the Professional Outdoor Media Association's under 25 group for young professionals.
Kalkomey works with government agencies and organizations to develop state-specific safety courses for boaters, hunters, snowmobilers, and off-road vehicle operators. Kalkomey's print and Internet training products have provided official safety certification for millions of outdoors enthusiasts. The company's online training sites include boat-ed.com, hunter-ed.com, bowhunter-ed.com, snowmobile-ed.com, and offroad-ed.com.
About Kalkomey
Kalkomey is the official provider of recreational safety education materials for all 50 states. Our print and Internet safety courses have been providing official safety certification for states since 1995. We provide safety courses in boating, hunting, bowhunting, and operating off-road vehicles and snowmobiles. For more information, visit the Kalkomey Enterprises website at http://www.kalkomey.com.