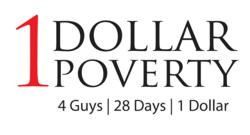 (PRWEB) July 18, 2012
1 Dollar Poverty is the story of four young men who live alongside Haitians in a tent-city in Port-au-Prince. The documentary was filmed four months after the massive earthquake which struck the country in January 2010. For 28 days, they ate, slept, worked, and played side by side with Haitians, the poorest people in the Western Hemisphere
In order to better understand the life of an average Haitian, they decided to live on a dollar a day. The four men, Matt, Andrew, Chris, and Jon, each agree that those 28 days were the hardest of their lives. But through their struggles, they were able to see something rarely witnessed by Americans: life through the eyes of some of the world's poorest people.
Matt, Andrew, Chris, and Jon now invite you to share in their experience. Set to be released on August 14th, 1 Dollar Poverty will challenge your perspective of life in poverty.
To view the trailer, visit: http://www.youtube.com/watch?v=DX57GzbzK3g
Poverty Resolutions, Inc. is a 501(c)(3) nonprofit organization located in Doylestown, PA. Founded in 2010, their mission is to eradicate dollar-a-day poverty through sustainable development projects and by educating Americans to promote awareness of global poverty and to inspire action. To learn more, visit http://www.povertyresolutions.org.
The Poverty Resolutions website was recently developed by web design and marketing agency FocusMX to better enable the nonprofit to spread their message. FocusMX offers marketing and website design solutions to large corporations, small businesses, non-profit organizations, and individual entrepreneurs. The site now boasts an appealing quality that strives to effectively impart the nonprofit's news and information.