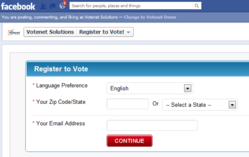 "The most reliable and efficient way to increase voter turnout on Election Day is by holding a voter registration drive and now organizations can do this through Facebook."- Votenet CEO Michael Tuteur
Washington, D.C. (PRWEB) July 18, 2012
Today, Votenet Solutions, Inc. is proud to announce the latest release of its "Election Impact" online voter registration system. With this release, Election Impact becomes the first white label social voter registration application that can be used by any organization, including unions, nonprofits, associations, candidates and corporations, to create their very own Timeline App and register voters directly from their own Facebook fan pages.
Other new social features added to Election Impact include the ability for users to post messages to their social media profiles and invite friends to register, and mobile compatibility that optimizes the registration process for Android and Apple iOS mobile devices.
In describing the new features, Votenet CEO Michael Tuteur stated:
"We designed this latest update to Election Impact with one goal - to help organizations increase the number of registered voters supporting their cause and get more of them to the polls on Election Day. The most reliable and efficient way to increase voter turnout on Election Day is by holding a voter registration drive and now organizations can do this through Facebook."
Election Impact 4.0's other new features include:
Foreign Languages: Citizens can now register in all of the languages supported by the federal government: English, Chinese, Spanish, Japanese, Korean, Tagalog and Vietnamese.
Customization: Organizations can customize the look and feel of Election Impact to match their brand or coalition by incorporating multiple logos and additional fields to capture email addresses, phone numbers during the registration process.
API Toolkit: Election impact offers developers a fully documented API that allows for custom integration into other websites and applications.
Campaign Reports: Customizable online reports and charts detailing usage trends, referral traffic analysis, demographic information and profiles of registrants.
Mobile Compatibility: Any organization can register voters through their own website via smart phones or tablet computers running the Android or Apple iOS operating systems.
###
ABOUT:
Votenet™ Solutions, Inc. is the leading provider of secure on-demand voting and balloting software, awards management software and election management services. Its Election Impact division provides online voter registration software to organizations, corporations, unions and associations and has registered over 2,000,000 voters since 2002. Votenet is headquartered in Washington, DC and serves over 1,500 customers.