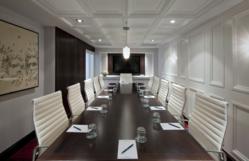 "We wanted to provide more alluring choices to our corporate meeting and event planners," said Ian Harvey, general manager of Capitol Hill Hotel.
Washington, DC (PRWEB) July 19, 2012
Following the completion of a multi-million dollar renovation, Capitol Hill Hotel is pleased to announce that it has expanded, and added innovative new spaces to its inventory of meeting and event facilities. The property now offers four flexible event spaces for successful business meetings or private soirees and is designed with the new aesthetic – modern lines softened by locally inspired décor.
To commemorate the completed makeover, Capitol Hill Hotel is launching two exciting promotions: "Meetings on Demand" which allows meeting space to be booked in customized time frames, as well as "Summer Stash Promotions," an offer loaded with attractive perks for meeting and event planners.
"We wanted to provide more alluring choices to our corporate meeting and event planners," said Ian Harvey, general manager of Capitol Hill Hotel. "We now have a deluxe new boardroom that is sure to please any dignitary or executive; and for smaller, more social events, we have two options with distinctive personalities that go beyond a traditional event space."
The property's prime location, nestled in the charming and picturesque Capitol Hill historic district, only two blocks away from the U.S. Capitol Building and closer to it than any other hotel, has always made Capitol Hill Hotel attractive to meeting and event planners looking for a central location. Now, expanded and enhanced space, the most advanced technology and attractive promotions make the hotel even more enticing.
Capitol Hill Hotel's "Meetings on Demand" offers customized meetings that cater to any time requirement. With this promotion, meeting space can be booked for a few hours at a time (with a two hour minimum). This rate is $125/per hour for the first two hours and $100 for each additional hour. The promotion includes complimentary use of 52-inch television monitors, wireless printer, scanner and fax, up to 50 printed pages and 20 local fax pages and unlimited coffee for the duration. The meeting space must be reserved 24 hours in advance.
Exclusively for the summer, Capitol Hill Hotel is offering even more incentives for meeting planners with the "Summer Stash Promotion." Meeting planners that enroll in Stash Hotel Rewards by August 31 will receive 1,000 Stash Rewards bonus points. Members that book a new group by September 30 immediately receive 25,000 additional Stash Rewards points. Points are valid at any participating Stash Hotel in North America.
Capitol Hill Hotel's enhanced meeting spaces for business or board meetings include:

The Boardroom (220 sq. ft.) can accommodate up to 12 attendees in a sophisticated space that offers the most advanced technology, as well as natural light.
The Parlor (415 sq. ft.) can accommodate 10 - 35 attendees and includes dual television screens for comprehensive viewing in a distinguished setting.
Both spaces feature built-in AV equipment and teleconferencing/videoconferencing accessibility with touch-screen control.
If planning for an intimate event or after-hours gathering, Capitol Hill Hotel offers two multi-use lounge spaces:
The Salon (700 sq. ft.) can transform into a distinguished business lunch event or a stylish after-hour cocktail soiree.
The Library (640 sq. ft.) is furnished with lush couches and a comfortable reading nook offering privacy for an exclusive social affair.
Beyond these capabilities, Capitol Hill Hotel also offers complimentary WI-FI and a 24-hour business center to ensure that all needs are met. A fifth meeting room, named The Independent (250 sq. ft.) is currently undergoing renovations and is expected to be complete in September.
For more information on Stash Hotel Rewards, please visit: stashrewards.com/signup or contact the hotel directly at (202) 543-2941
For more information on Capitol Hill Hotel or any packages listed above, please visit: capitolhillhotel-dc.com.
*Interview opportunities with a Capitol Hill Hotel representative available by request.
*High resolution images of the property are available upon request.
About Capitol Hill Hotel
Capitol Hill Hotel is a member of the Independent Collection – a collection of boutique hotels in unique locales including Brooklyn, N.Y., Philadelphia, Boston and more – and is managed by HHM. Capitol Hill Hotel is located in the heart of the Capitol Hill historic district, one of the most prestigious neighborhoods in the capital, and just footsteps from the capital's most famous landmarks. Capitol Hill Hotel welcomes both short and extended stay travelers and the property encompasses 152 all-suite guestrooms which all feature a kitchenette or kitchen. Drawing inspiration from its beloved neighborhood, the Capitol Hill Hotel design incorporates modern décor with local aesthetics – paying homage to the vibrant and culturally eclectic city in which it resides. Adjacent to the hotel are renowned local restaurants and boutique shopping alternatives. Travel a few steps further and be amongst world leaders and moved by historic landmarks.
About The Independent Collection
The Independent Collection is a growing collection of smaller, more intimate boutique lifestyle hotels located in truly unique neighborhoods of gateway cities across the US. The hotels of the Independent Collection are developed for the independently minded traveler and invite guests to experience the true spirit of the city.
About HHM
HHM, formerly known as Hersha Hospitality Management, operates 89 hotels across the United States. HHM provides turnkey hotel management, asset management and receivership for properties with leading brand affiliations through Marriott, Hilton, Hyatt, Starwood, and Intercontinental Hotel Group. HHM also operates 14 independent hotels ranging from The Rittenhouse Hotel, a AAA Five Diamond property in Philadelphia, to the oceanfront Postcard Inn in the Florida Keys. Its highly experienced team is accustomed to serving as a fiduciary to publicly traded companies, joint ventures, institutional real estate owners and private investors. Additional information on HHM can be found at hhmhospitality.com.
###
Media Contacts:
Maria R. Brewer, M. Silver Associates
Maria Castro, M. Silver Associates
maria(at)msilver-pr(dot)com
mariac(at)msilver-pr(dot)com
(212) 754-6500 ext. 230/228
Mary Gollhofer
Independent Collection Hotels
Media Manager
mary(dot)gollhofer(at)hhmlp(dot)com
(267) 238-5025
For queries relating to Capitol Hill Hotel meeting spaces or to book a space, please call Aisha Derricott at (202) 543-2941 or email: aisha(dot)derricott(at)capitolhillhotel-dc(dot)com