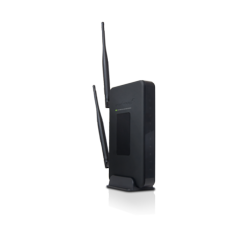 "The extra features such as setting up guest access, a USB port for file sharing, and its Gigabit bridge capability, makes it more of a comprehensive piece of networking hardware than your typical extender," stated PC Magazine.
Chino Hills, CA. (PRWEB) July 20, 2012
Amped Wireless, the leading manufacturer of high-power, long-range wireless communications products for the home and office, today announced that the new Amped Wireless SR20000G High Power Dual Band Wi-Fi Range Extender, which can extend the range of any Wi-Fi Network by up to 10,000 square feet, has been awarded Editors' Choice by PC Mag.
In its review, PC Mag gave Amped Wireless SR20000G 4.5 out of 5 stars and praised the product for its excellent coverage and wireless extension capabilities, USB port for file sharing, advanced features, and easy setup.
"Amped Wireless' repeater is a well-engineered networking device that provides great coverage without any hassle in those wireless dead zones," stated PC Mag editors.
"As individuals and families look to expand their digital lives to wherever they want to go, Amped Wireless empowers them to do so with the confidence that their online experiences can extend beyond the den and the living room," said Jason Owen, CEO of Amped Wireless. "By awarding Amped Wireless top honors, PC Mag reinforces Amped Wireless' devotion in developing the highest quality range extending Wi-Fi products that surpass our customer's expectations."
This new universal Wi-Fi range extender allows a wireless network to be expanded by repeating, amplifying and rebroadcasting the signal from any existing wireless router.
Announced in June of 2012, the SR20000G is designed specifically to meet the needs of the small business office and home office networking requirements, the new High Power Wireless-N Gigabit Dual Band Range Extender introduces a number of industry firsts, including:

The first Wi-Fi range extender to include 5 gigabit networking ports for connecting PCs, A/V devices and game consoles at full speed
The first Wi-Fi range extender to include USB port for sharing files over the local or extended networks
The first Wi-Fi range extender to deliver long range, dual band speed of up to 600Mbps for smooth streaming of video, music and uninterrupted gaming across a number of devices, including: Game Consoles, iPads, Internet TVs, Notebooks, PCs, Smart Phones, Tablets, VoIP devices and more.
The SR20000G is universal and extends the range of any 802.11a/b/g/n, single or dual band router. Equipped with high power dual band amplifiers, low noise amplifiers and high gain antennas, the SR20000G is capable of extending simultaneous dual band Wi-Fi coverage by up to 10,000 square feet or a quarter of an acre.
Built upon the company's award-winning Wi-Fi technology, the SR20000G is engineered with the latest state-of-the-art wireless features which includes:
Dual high power 2.4Ghz 600mW amplifiers, dual high power 5.0GHz amplifiers and dual
low noise amplifiers for improving wireless reception

Dual High Gain 5dBi detachable dual band antennas
High speed 620MHz internal processor for faster networking
Simultaneous 2.4GHz and 5.0GHz dual band 802.11n technology
The combination of advanced power amplifiers, wireless reception amplifiers and high gain antennas, provide users with a significant increase in signal strength over great distances to improve home or office Wi-Fi coverage. The SR20000G High Power Wi-Fi Gigabit Dual Band Repeater retails for $169.99 (USD) and is available immediately from the Amped Wireless online store at: http://www.ampedwireless.com/products/sr20000g.html
About Amped Wireless
Amped Wireless' mission is to develop the highest quality, long range wireless products through experience, passion, innovation and advanced technology that exceed customers' needs and expectations. Amped Wireless specializes in providing long range wireless consumer and business communications products for home and office. For more information on Amped Wireless please visit the company's website at http://www.ampedwireless.com.
# # #
Amped Wireless: The Leader in High Power Wireless Networking.