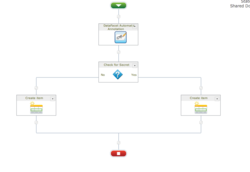 "We welcome WAND as a Nintex technology partner since their DataFacet automatic tagging solution enhances users ability to automate business processes"
Denver, CO (PRWEB) July 19, 2012
WAND, Inc., a leading provider of taxonomies and the DataFacet Automatic Tagging Solution for SharePoint, today announced its integration with Nintex Workflow. The DataFacet Automatic Annotation custom action for Nintex Workflow allows a user to automatically tag documents with taxonomy metadata as part of a workflow process.
Users who have DataFacet and Nintex Workflow installed on their SharePoint environment will be able take advantage of this custom action to control when a document is automatically tagged and base conditional actions on those tags. This custom action can be added to any workflow built using Nintex Workflow's simple drag-and-drop interface. Workflows can be configured to tag documents with any terminology that is stored in the SharePoint Term Store, including terms from any of WAND's Foundation Taxonomies.
"Many businesses need to create different workflows based upon the content of a document. WAND DataFacet makes this possible for the first time, adding a powerful new automation capability to Nintex Workflow," said Mark Leher, WAND's COO. "Our customers see the value of helping their employees by tagging documents automatically; Adding this to workflows makes users lives even easier. Rules based tagging to well-defined industry taxonomies gives our customers incredible level of control over processes."
"Nintex is focused on delivering technology that is easy to use and empowers organizations to automate business processes. We welcome WAND as a Nintex technology partner since their DataFacet automatic tagging solution enhances users ability to automate business processes," said Wayne Woolston, Nintex President.
***********************
About WAND, Inc.
Since 1995, WAND has developed structured multi-lingual vocabularies with related tools and services to power precision search and classification applications on the internet. WAND's Taxonomy Library contains industry vertical taxonomies such as Oil and Gas, Mining, Financial Services, Automotive, Medical, Higher Education, Food and Beverages, Food Science, Insurance, Real Estate, and operational taxonomies like IT, Legal, Records Retention, Skills, and General Business. More taxonomies are created on a regular basis.
WAND's DataFacet Automatic Tagging Engine helps our customers tag documents with relevant metadata to improve search and findability inside of enterprise content management systems like SharePoint 2010, Oracle Webcenter, Documentum, and more.
For more information about WAND's taxonomies, services, and DataFacet Automatic Tagging Software, please visit http://www.wandinc.com, blog.wandinc.com, and http://www.datafacet.com
About Nintex
Nintex is a leading Microsoft SharePoint company, with over 3000 customers in 90 countries serviced by a global network of high quality partners and service providers. Nintex delivers innovative software and cloud services that empower organizations to automate business processes, quickly and easily.
Nintex is focused on delivering technology that is powerful, easy to use, and addresses the needs of business users, developers, and IT professionals alike. Products include Nintex Workflow, recognized by analysts as the most utilized third party tool for SharePoint, and Nintex Forms the breakthrough technology that enables SharePoint forms to be designed and deployed quickly and easily to any mobile or PC device.
Nintex customers are government, public, and private organizations including over 200 of the Fortune 500, and over 100 major banks. From simple workflows, to complex processes that interconnect multiple systems, Nintex is revolutionizing the way organizations automate business processes.
We invite you to visit http://www.nintex.com for more information and trials.
--End--