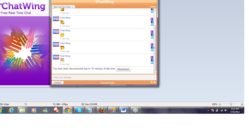 Boston, MA (PRWEB) July 20, 2012
Chatwing is now buffing up its communication potential by launching a chat widget that can handle up to 600 users in real time. With this chat application, bloggers will now have opportunities to chat with many people across the Internet. The Chatwing tool has been known in other blogging communities because of the blogging leverage that it can offer. Naturally, a Chatwing chatroom can generate continuous stream of visibility for any blog or website.
The Chatwing chat box is also versatile enough because visitors can discuss many topics in general. The dev team has noticed that most of the topics range from fashion, blogging tips, website design, application guides, apps, Facebook games, and global current events. It also depends on the niche covered by the host blog. If the content of the blog is interesting, Chatwing can bring in even more visitors within a short span of time.
Judging on the influx of visitors and clients, the Chatwing team is planning to upgrade the user capacity to 1000. In this way, many people will be able to use the chatbox with relative efficiency. Each Chatwing chatroom also contributes to the global synergy of information, allowing important news to travel in just seconds. This is another reason why the Chatwing team works hard in maintaining the stability of the chat platform. In the coming months, the dev team is expecting to generate thousands of signups as the free chat box is going to be introduced to prominent online sectors such as finance, sports, gaming, podcast, and many more.
Even before the first launch of Chatwing, its developers are always determined to increase the notch of web communication. Adding to that, the Chatwing team also wants to stop the attrition of blogs because of global competition. This will only be possible by introducing the free chat widget to thousands of aspiring users worldwide. Based on the team's research, the campaign will be a stretch, but it is attainable.
About Chatwing.com
Chatwing.com specializes in the new field of website chat. Over years, the Chatwing team has introduced live chat widget for hundreds and thousands of blogs. The Chatwing application bridges people from many parts of the world, creating global synergy through the Internet. The shout box can be installed in just seconds, and it can be used for varying purposes such as leisure and Internet marketing. It also allows a user to customize the size, color, and name of the widget. Chatwing is 100% free for everyone.