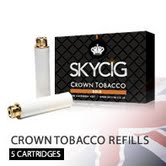 luxury taste for those who crave the finer things in life
London, UK (PRWEB UK) 19 July 2012
The new SKYCIG Crown Tobacco flavoured cartridges offers a luxury taste for those who crave the finer things in life. The new addition is said to be a smooth full flavour, inspired by fine tobacco with undertones of sweet mocha, offering a sophisticated SKYCIG experience. The 7th new flavour will be available to buy online in Regular (12mg), Bold (16mg) and Light (6mg) strengths.
SKYCIG has created the most realistic, reliable and easiest to use electronic cigarette on the market today. SKYCIG electronic cigarette is one of the first products which offer a great alternative to traditional smoking with the idea of creating exceptional flavours and exceptional service. SKYCIG has the same look and feel of a regular cigarette but is up to 75% less expensive, saving an average customer thousands of pounds a year. The product offers you an authentic smoking experience without the harmful chemicals contained in tobacco cigarettes, however still satisfies the customer without compromising on taste.
SKYCIG has been carefully designed to meet the most rigid quality control standards, with the idea of customers being able to smoke an electronic cigarette virtually anywhere at any time, from sitting at your desk at work, to airports and restaurants.
SKYCIG UK Operations Director Damien Scott said: 'Crown Tobacco is a wonderful addition to the cartridge range and one we hope everyone enjoys. The success of Cherry Delight and Cinnamon since their launch tells you all you need to know about the taste buds of our customers".
SKYCIG's number one goal is to build long-lasting relationships with each and every customer, reinforcing the importance of their customers' needs and providing their loyal customers with a variety of different flavours. SKYCIG's new smooth flavoured cartridge will be the first of many new additions to the range.