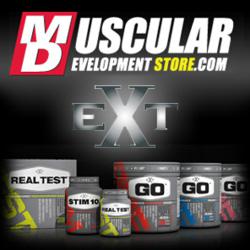 The Muscular Development Store is excited to sell EXT Sports online. I know that BPI Sports has been working hard to create a brand geared specifically towards sports performance.
East Setauket, NY (PRWEB) July 19, 2012
MuscularDevelopmentStore.com recently announced the addition of the new EXT Sports product line to its array of bodybuilding supplements and sports nutrition products. Created by BPI Sports, the new line is aimed towards hardcore fitness enthusiasts, and contains a unique set of foundation-based ingredients that appeal to the muscle-building audience.
The new product line consists of EXT Sports GO!™ Performance Pre-Training Powder, EXT Sports STIM10™ CNS Stimulant & Weight Loss, and EXT Sports REAL TEST™ Androgenic Testosterone Booster. With aggressive branding targeting the sports performance audience, the new product line is projected to quickly become an industry leader.
"The Muscular Development Store is excited for the opportunity to sell EXT Sports online. I know that BPI Sports has been working hard to create a brand geared specifically towards sports performance. The new line will be a great addition to our store," said Brian Turner, President of Muscular Development Store.
In order to accomplish fitness goals and maximize recovery time, building muscle and getting lean "NOW" is of the utmost importance. The new products will give bodybuilders, fitness enthusiasts, and athletes a way to improve their training regimens and complete their goals by employing a no holds barred approach. EXT Sports stands to become the premier "go-to brand" for those looking for an alternative to current product lines, many of which are based on old, and in some cases, outdated, science. The new products are fortified with a select group of "non-commercialized" ingredients, aimed at distinguishing the brand from its competitors.
"...Our development team works closely with us reviewing hundreds of formulations to ensure the highest quality of our final products," said James Grage, Vice President of BPI Sports. "Our reputation in the industry allows us to offer active consumers new product lines they can trust to help them perform better, stronger and longer. The partnership we have with our distributors will give the new line unparalleled access to qualified consumers worldwide."
MuscularDevelopmentStore.com is a Long Island, NY-based company that provides sports nutrition supplements to bodybuilders and fitness enthusiasts alike. Since its inception, MuscularDevelopmentStore.com has consistently provided top-rated products, highly-informative research and competitive pricing.
For more information on MuscularDevelopmentStore.com, please call 1-800-653-1151 or visit MuscularDevelopmentStore.com today.