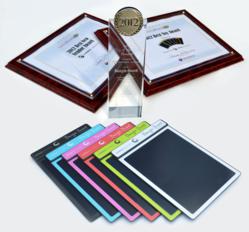 Use of Boogie Board eWriters in learning environments is gaining tremendous momentum because of retailers like Learning Express Toys and their customers.
Kent, OH (PRWEB) July 19, 2012
Improv Electronics announced today the company and its highly popular line of Boogie Board™ LCD eWriters received three of the highest awards at the recent Learning Express Toys Annual Convention in Las Vegas. Learning Express is a U.S.-based educational toy retailer that offers high-quality, unique and educational toys online and through its network of 140 independently-owned U.S. store locations.
Learning Express named the Boogie Board eWriters its Toy of the Year and Best Science/Whiz Kid Toy. Boogie Board eWriters are the tree-friendly, electronic alternative to memo pads, sticky notes, sketch books and notebooks. Learning Express also recognized Improv Electronics as its New Vendor of the Year.
Mark Caston, owner of the Learning Express Toys in Westlake, Ohio, received the Discovery Award for being the first Learning Express Toys store to offer Boogie Board LCD eWriters.
"We are thrilled Boogie Board eWriters have been recognized as the top product at Learning Express Toys, and highly value their support and enthusiasm as a retail partner," said Edmund Gai, Americas Sales Director for Improv Electronics. "Use of Boogie Board eWriters in learning environments is gaining tremendous momentum because of retailers like Learning Express Toys and their customers. They've quickly embraced Boogie Board eWriters because they are a very eco-friendly, cost effective alternative to paper and pen that can be used for many school activities - practicing handwriting, solving math problems, taking tests, creating graphs, taking notes and drawing pictures – while making learning fun."
The Best Science/Whiz Kid Toy Award was given to the Boogie Board eWriter for its originality, creativity, leading edge design and strong sales numbers. The Boogie Board eWriter was named Toy of the Year for having the best sales performance of any product in a Learning Express Toys store. Improv Electronics received the Best New Vendor Award for understanding the uniqueness of the Learning Express Franchise system, being supportive of individual store owners, the innovative design of Boogie Board eWriters and their extraordinary sales performance.
About Boogie Board eWriters
Improv Electronics introduced Boogie Board eWriters in January 2010 with the Boogie Board 8.5 eWriter as an electronic, paperless replacement for memo pads, sticky notes, scratch pads and other writing and drawing mediums. Several new models were added over the following two years:

Boogie Board 10.5 LCD eWriter (50% larger writing surface than the original)
Boogie Board 8.5 LCD eWriter with exclusive custom design for Brookstone stores
Boogie Board Rip® LCD eWriter (saves notes as PDFs and transfers them to a computer)
In June 2012, Improv Electronics unveiled the Boogie Board Jot 8.5 LCD eWriter, a sleek and stylish version of the original Boogie Board eWriter and the Virtual Desktop Companion 2.0 software upgrade for the Boogie Board Rip LCD eWriter. New features in the upgrade include Evernote® integration, virtual whiteboard mode and MyScript® OCR compatibility.
Boogie Board eWriters are now sold in nearly 30 countries.
About Improv Electronics
Improv Electronics was formed in 2010 as the consumer products subsidiary of Kent Displays. Founded in 1993, Kent Displays, Inc. is a world leader in the research, development and manufacture of Reflex® No Power LCDs for unique, sustainable applications including electronic skins, eWriters, smartcards and eReaders.
For more information on Boogie Board eWriters, visit Improv Electronics online or email iMPROV(dot)sales(at)kentdisplays(dot)com
Evernote is a trademark of Evernote Corporation
MyScript is a trademark of Vision Objects
Boogie Board, Boogie Board Rip, Reflex and Improv are trademarks of Kent Displays, Inc.