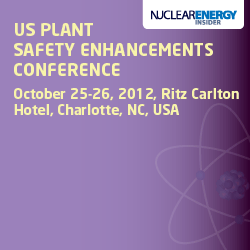 (PRWEB) July 19, 2012
The U.S. nuclear industry has been making great strides to work together and ensure that all post-Fukushima safety evaluations and enhancements are compliant and executed timely and effectively. In order to continue the progress made thus far, the U.S. Nuclear Regulatory Commission, Exelon Nuclear, Duke Energy and Entergy will be meeting in October with other experts from across the globe working in nuclear emergency planning, safety, engineering, and operations.
The conference they'll be attending is undoubtedly the best chance in the fall of 2012 for vendors to meet and network with the major U.S. nuclear plant owners looking to implement detailed and well managed safety enhancement programs.
The U.S. Plant Safety Enhancement Conference on October 25-26, Charlotte, NC, will focus on overcoming the key challenges of containment protection, technical issues, emergency preparedness, extended loss of offsite power, spent fuel pool safety, and regulatory compliance.
Identifying the final cost of implementing all post-Fukushima plant safety enhancements also represents a significant challenge as each US plant will execute the work on a case-by-case basis.
However, there are international examples from which we can make an educated guess on cost implications behind installation, implementation and engineering procedures.
In France, EDF has estimated that the safety upgrade work at each of its 58 reactors could cost €10 billion ($13.3 billion) and take until 2018. Translated to the 104 nuclear power plants in the U.S., this creates a potential safety modification and enhancement market of $23.5 billion.
This is further supported by Eskom in South Africa where $250 million was spent on safety upgrades, while in Brazil Eletronuclear is looking to spend $200 million on stress tests and modification work at the Angra Nuclear Power Station.The conference will provide in-depth analysis into cost estimation as well as:

The latest regulatory updates regarding the post-Fukushima safety orders
International approaches to nuclear plant safety amendments
Case studies from the U.S. nuclear industry's leading utilities
The latest developments in digital modifications, spent fuel pools, hardened vent upgrades and beyond design basis issues
Contracting and procurement strategies to ensure safety enhancement operations are fully and effectively resourced
To join 150 senior decision makers and experts coming together for two days of business critical intelligence, unrivalled networking and stimulating discussion follow the link below.
For more information follow:http://www.nuclearenergyinsider.com/enhancements