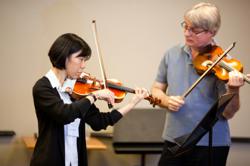 Baltimore, Md. (PRWEB) July 20, 2012
The Baltimore Symphony Orchestra's flagship adult outreach program, the BSO Academy, was featured in The New York Times' Arts & Leisure section on Sunday, July 15th in an article titled, "Greetings from Band Camp." Features writer and amateur clarinet player Daniel J. Wakin was embedded in the Academy for all eight days of the program, engaging with BSO Music Director Marin Alsop, professional BSO musicians and fellow participants.
The BSO Academy is an immersive summer music program that this year gave 104 amateur adult musicians the opportunity to perform alongside the professionals. The Academy convened in Baltimore for eight days—from Saturday, June 23 to Saturday, June 30, 2012. Daily sessions of performance and educational activities were held at the BSO's primary venue, the Joseph Meyerhoff Symphony Hall in Baltimore, and other local venues, culminating in a final concert on June 30th led by Music Director Marin Alsop.
Of his experience, Mr. Wakin, an amateur clarinetist, wrote: "The academy was a kind of fantasy camp, better known to rock and baseball fans. But unlike air-guitarists or flabby softball players, we faced a high level of intensity from the start. The music was difficult, even for the pros many of us hoped to keep up with. Virtually all of us were there to improve our technique and musicality, not merely soak up star power."
The inaugural BSO Academy took place in June 2010 when it drew 47 participants from both the local area and across the country. In its second year, the BSO Academy nearly doubled its enrollment, serving 87 participants from 16 different states and the District of Columbia. The program cultivated greater involvement with and from Academy participants, as alumni have continued to interact with BSO musicians through private lessons, Facebook, increased concert attendance at the BSO's two venues and involvement in similar participatory events, including "Rusty Musicians with the BSO." The Rusty Musician program welcomes amateur musicians to rehearse and perform across one evening with the BSO under Maestra Alsop's direction. Programs like the BSO Academy and Rusty Musicians exemplify the BSO's mission to better connect with existing and new audiences through greater levels of active participation in creative music-making. Approximately one-third of all Academy participants had previously attended a Rusty's event.
To read the full article, visit http://nyti.ms/NWl84D . For more information on the 2013 BSO Academy, taking place June 15-22, 2013, visit http://www.bsomusic.org/main.taf?p=11,5 .
###