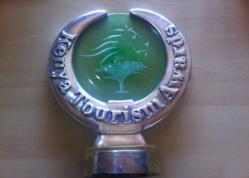 "It is very encouraging for our team to receive this award and to receive recognition for the community conservancy concept..."
Nairobi, Kenya (PRWEB UK) 20 July 2012
The award ceremony, held on June 22nd 2012, took place in Kenya's capital Nairobi where both Porini Safari Camps and Gamewatchers Safaris were honoured for their pioneering work and continuous developments with the Maasai communities; creating wildlife conservancies, while supporting local initiatives in education, health and water projects.
A spokesperson from the Gamewatchers Safaris comments;
"It is very encouraging for our team to receive this award and to receive recognition for the community conservancy concept which we believe is one way for communities around the national parks and reserves to benefit from conservation of wildlife habitat."
The Porini Safari Camps were highly commended and came out on top as winners for the "Support and Integration with Local Community Award". The camps themselves fall under a pioneering initiative called 'Conservancy Concept', led by Porini Ecotourism, a Kenyan company founded by Kenyan national Jake Grieves-Cook. The benefits of the conservancy include;

The Maasai always earn an income regardless of booking numbers, see the benefits of tourism and are provided with a profitable alternative to animal husbandry
Virtually no poaching or wildlife killing within the community owned conservancies providing a safe haven for animals
No more over grazing in the conservancy so grass and vegetation recovers
The whole initiative offers a real and viable alternative to the current safari-tourism model.
Porini Safaris have been delighted with the support from their guests and agents that have been supporting their camps in making their conservation and community initiatives sustainable. Notably, the Porini Mara Camp, which won TripAdvisor Travellers Choice 2012, where one guest highlighted the positive actions of the camps:
''The Porini Camps Concept of engaging the Maasai in gainfully using their land as a conservancy has allowed wildlife to return in large numbers. Moreover, it has allowed the Maasai to step into the 21st century whilst staying in touch with their roots and yet earning a modern wage."
About Gamewatchers Safaris:
Gamewatchers Safaris has been operating in Kenya for over 20 years. Founded by Managing Director Jake Grieves-Cook who has been involved in Kenya's tourism industry for over 35 years. Gamewatchers Safaris are dedicated advocates of Eco Tourism and so they work hard to ensure that their tailor made, private safari tours are both sustainable and ethical.