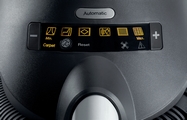 The release of the AutoEco marks Miele's best upright vacuum to date
Quincy, MA (PRWEB) July 25, 2012
Miele's S7 series of residential vacuums will now feature the S7580 AutoEco upright vacuum equipped with several advanced features. eVacuumStore.com, a Miele Diamond Dealer and internet retailer, is offering an exclusive 10 year warranty on all of the Miele vacuum cleaners. The AutoEco will now include an automatic height adjustment and motor control function for convenience while cleaning. The modified S7 series will also feature updated versions of the S7210 Twist and S7280 Jazz with refined colors.
"The release of the AutoEco marks Miele's most advanced upright vacuum to date" says Zack Currier, a repair technician, "the automatic height adjustment allows for proper airflow during all types of cleaning. Whether switching from hard floors to carpets or any other floor type, the AutoEco always allows for proper airflow to maximize suction power".
In addition to the AutoEco, Miele unveiled updated versions of the S7 Twist and Jazz models and an entire new, modified line of Miele vacuum bags. The Twist is Consumer Reports' highest rated upright vacuum for pet hair and noise levels and uses a swiveling neck to maneuver around household objects while cleaning and is now available in a light, spirit blue color. The Jazz, also updated, is now available in a light, canary yellow shade.
While Miele offers a 7 year warranty on each of their canister and upright vacuums, eVacuumStore.com will now offer an additional 10 year warranty on every Miele vacuum cleaner. This ten year extended warranty covers the 1200 watt vortex motor system after the manufacturer's warranty period is expired.
About eVacuumStore.com:
Founded in the early 2000s, eVacuumStore.com is the largest online retailers of vacuum cleaners, repair parts and accessories. The site was built around customer service and the idea of offering the detailed parts diagrams and schematics that were once only available to official warranty centers to the consumer to fuel Do-It-Yourself vacuum cleaner repairs. For more information on the entire Miele product line, visit eVacuumStore.com.