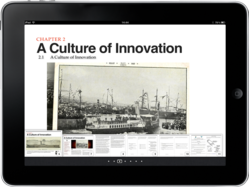 (PRWEB) July 19, 2012
The interactive study guide (available on iPad) is split into several chapters detailing the key events and innovations that made Titanic stand out prior to launch, and her makers, Harland and Wolff, famous as 'Shipbuilders to the World'. It helps to understand where the mythology of the ship being 'unsinkable' first originated.
To support this great interactive study guide with a rich audio-visual experience, there is a documentary app, 'Titanifacts' on iPhone or 'Titanic Dock' on ipad, which have great information, videos and facts from that time period as well as interviews with Titanic experts. Awakin.com have also recently launched the 'Titanic Island Game' for iPhone, iPad and Android.
As it's Titanic's 100th commemorative year, the folks at Awakin.com are also offering to build a "lean launch app" for 100 lucky customers for only $99 - So if you're a business, blogger, a travel writer or anyone interested in having your own app,
Click here to get this Exclusive Offer!
For more information on the iBook go to - Titanicdock.com/book
or for a background to Awakin Digital Publishing visit http://www.awakin.com/work.html
Awakin Digital Publishing have delivered several award winning Titanic experiences including:
*The BT Golden eye Award winning - Belfast Titanic Trail (GPS)
*The Belfast Business Award Winning - Titanifacts on iPhone
*The Titanic Island Digital Documentary
*The Awakin team also envisioned and delivered the premier visitor experience at Titanic's Dock and Pumphouse in Belfast for it's launch.