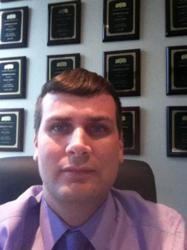 Dan is an iconic figure in our Atlanta mortgage division
Atlanta, Georgia (PRWEB) July 23, 2012
Foundation Financial Group announced the promotion of Daniel Iglesia to division general manager for the company's Atlanta Regional Sales Center, located at 100 Galleria Parkway, Suite 1400 in Atlanta, Georgia.
Iglesia, a bilingual native from Fort Lauderdale, FL, holds a bachelor's degree from the University of Florida. He has been with Foundation Financial Group for over seven years and this is his eighth promotion.
"Dan is an iconic figure in our Atlanta mortgage division because he is the absolute best at what he does. He has won multiple Cornerstone awards, at each position he has held," said Foundation Financial Group's EVP of Sales, Raymond Drohan. "His work ethic is unequaled, his commitment to perfection is incomparable, and his ability to effect change within his business unit ensures that success will be inevitable," I am confident that in his new role, Dan will take the performance of Foundation Financial Group, in Atlanta, to new levels of growth."
Foundation Financial Group honors the single top performer at each position within the corporation and rewards excellence in sales leadership and management with a Cornerstone award. Iglesia received his first Cornerstone award within five months of working at FFG. Over the course of his career, Iglesia has received a total of 30 Cornerstone awards, which were earned through hiring, coaching, and leading his team to success.
"Foundation Financial Group is an amazing company for someone who is looking for a career, not just a job. Through hard work I've been promoted several times during my years here, from an entry level salesman to now an executive manager. I enjoy managing and training people in the financial services industry and FFG has provided me the opportunity to do what I love," said Iglesia. "I started here when we were just a mortgage lender and have watched us grow into a full financial services corporation. With so many opportunities already provided to me, it is exciting to know there are still many more to come. I'm planning on Foundation Financial being the last place I work."
Iglesia also volunteers his time at various non-profit organizations and events including the National Charity League and Books for Africa.
About Foundation Financial Group
Foundation Financial Group is a multibillion dollar financial services corporation. FFG offers its customers Best in Class service through its Insurance, Retirement, Mortgage, and Tax Services. Named one of the fastest growing financial companies in the country by INC magazine, FFG has continued to grow its nationwide presence with over 100,000 new customers per year in 38 states. In addition to the value that Foundation Financial provides every customer, it is also dedicated to its communities and the people who live in them. Through a vast array of philanthropic endeavors the company not only provides significant monetary donations but also fosters a workforce environment that encourages all team members to personally make a difference. Foundation Financial is committed to its strong focus on customer service and community investment as it continues to grow and compete with the largest financial institutions in the world.
For additional information, interview and image requests, contact the Foundation Financial Group Public Relations team at 866-659-3200.