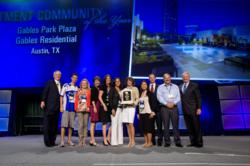 "Gables Park Plaza is a flagship community representing the culmination of best practices, innovation and service excellence." noted Ben Pisklak, Executive Vice President and Chief Investment Officer for Gables Residential
Austin, TX (PRWEB) July 18, 2012
Gables Residential's Gables Park Plaza in Austin, Texas, was awarded National Apartment Association's (NAA) PARAGON Community of the Year at the NAA Education Conference & Exposition in Boston.
The PARAGON awards recognize the multifamily housing industry's top communities, executives, employees and affiliate programs.
The community was designed to appeal to the renter-by-choice seeking the convenience of mixed-use, urban living, with interior features surpassing most upscale single family homes. Gables Park Plaza is a LEED SILVER-certified community offering dramatic views of downtown and Lady Bird Lake. In addition to the many unique apartment features, this community offers programs and services that are geared toward engaging residents and celebrating the active culture and lifestyle of Austin. From the roof-top swimming pool and Aqua lounge to the gourmet kitchen and top-of-the-line fitness center, this community is a prime example of luxury apartment living. Resident activities include Yappy Hours for residents and their pets, networking events, monthly breakfasts and healthy eating presentations by various local chefs. Local bike and hiking trails are only steps away.
Ben Pisklak, Executive Vice President and Chief Investment Officer for Gables Residential commented, "Gables Park Plaza is a flagship community representing the culmination of best practices, innovation and service excellence. Receiving the PARAGON award is more than an industry honor it is a testament to the entire Gables team who were involved in the development, construction, lease up and operation of the community. The team's hard work, creativity and dedication to excellence are reflected in the community design and performance."
The eco-friendly apartment homes incorporate reusable materials, energy efficient lighting, upgraded recyclable-fiber carpet in the bedrooms, solar shades on all windows, rapidly renewable bamboo flooring, and Energy Star stainless steel appliances. Additional features include water-conserving shower heads and faucet aerators, CFC-free HVAC refrigerant, water-conserving toilets, an energy efficient light-colored roof, energy efficient double-glazed windows, a roof system with high SRI (solar reflective index), hybrid car electrical outlets in the parking garage, photo cell-light managers on garages and exterior lighting, and a bicycle storage facility. Low-VOC paint is used in all apartment homes and rain sensors are used on the irrigation system, which does not require the use of city water/sewer.
Approximately 25 percent of the community's building materials were from recycled materials. Management and cleaning teams use eco-friendly cleaning products. Residents are encouraged to do their part as well, with recycling bins in the pool area and clubroom. Many residents and associates also participated in an Earth Day neighborhood cleanup.
Gables Park Plaza also won a PARAGON award in the category for Best Community, Specialty Housing—Green Housing.
NAA President Douglas Culkin said, "The PARAGON awards recognize the outstanding contributions of multifamily builders, professionals and affiliated associations. By shining a light on these winning individuals, communities and organizations, all members of our industry benefit."
About Gables Residential
With a mission of Taking Care of the Way People Live, Gables Residential has received national recognition for excellence in the management, development, acquisition and construction of luxury multi-family communities in high job growth markets. Gables Residential owns, develops and manages multi-family communities and mixed-use developments in Atlanta, Austin, Dallas, Houston, South Florida, Southern California, and metropolitan Washington, D.C. Additionally, it has third-party management operations in the Chicago, New York, Boston, Phoenix, Central and North Florida, and Washington State markets. Gables Residential enjoys a healthy portfolio with approximately 37,000 apartment homes under management, including a corporate-owned portfolio of 54 stabilized communities comprising approximately 13,800 apartment homes. An additional 8 communities are under development/lease-up, comprising approximately 2,500 apartment homes. Gables also has the ability to develop another 2,000 apartment homes through its shadow pipeline of undeveloped land owned. For more information please visit http://www.gables.com.
About NAA: The National Apartment Association (NAA) is America's leading advocate for quality rental housing. Based in Arlington, Va., NAA's mission is to serve the interests of multifamily housing owners, managers, developers and suppliers and maintain a high level of professionalism in the multifamily housing industry to better serve the rental housing needs of the public. NAA is a federation of nearly 170 state and local affiliates, comprised of more than 55,000 multifamily housing companies representing more than 6.2 million apartment homes throughout the United States and Canada. Members in good standing of any affiliated association are automatically considered members of NAA and entitled to NAA benefits.