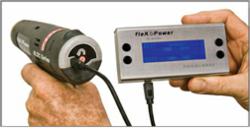 San Jose, CA (PRWEB) July 20, 2012
Mountz, Inc. introduces a new line of cordless brushless torque screwdrivers to the FlexPower brand. Portable and lightweight, the FlexC II cordless brushless torque screwdrivers feature the flexibility to easily adjust and program the speed setting. These rugged cordless assembly tools increase productivity and enhance product quality through precision torque control and user comfort. These battery screwdrivers are ideal for applications where air or electric power is not easily accessible.
Built for torque control and durability, the cordless brushless torque tools are built around a 18V high capacity lithium-ion battery platform. The dependable cordless torque screwdrivers automatically stop when the preset torque has been reached. Designed with a precision auto shut-off clutch the battery torque tools provide accurate torque repeatability.
The cordless torque screwdrivers are built with LED indicators that provide an audible and visual alarm signal for the operator as he/she achieves the preset torque value. The LEDs will provide a signal to the operator if the preset torque was not achieved, as well as provide an early warning of a low battery. Mountz, Inc. has improved the technology of cordless screwdrivers with an unique mechanism designed to automatically shut-off the tool when the battery has less than 25% of the charge, ensuring the quality of the fastening torque.
The speed setting of the cordless screwdriver can be adjusted by connecting the "Programmer" device into the back end side of the cordless brushless screwdriver. An operator can quickly and simply program the speed setting and adjust the audible alert volume for the FlexPower cordless brushless torque screwdrivers.
In the demanding fastening applications where speed and maneuverability are key assembly requirements, the brushless cordless tools operate at lengthy periods between charges and are flexible for tight space applications. The FlexPower cordless brushless screwdrivers feature a soft textured ergonomic hand grip designed to improve control and reduce fatigue in long run fastening applications.
The environmentally friendly FlewPower cordless screwdriver models feature a high performance brushless motor design that provides durability and reduces the standard maintenance costs. All the cordless torque screwdrivers feature a LED light for applications with dark operating areas. The battery torque screwdrivers are offered in a pistol style configuration with various models covering a torque range of 7 to 106.2 inch-pounds.
Mountz cordless brushless torque screwdrivers are designed for precision torque control and are the state-of-the-art in innovative assembly. Controlling torque is essential for companies to ensure their product's quality, safety and reliability isn't compromised. The failure of a three-cent fastener that isn't properly tightened can lead to catastrophic or latent failures. Fasteners that are insufficiently torqued can vibrate loose and excessive torque can strip threaded fasteners. Using a quality cordless brushless torque screwdriver is important for many companies to ensure that proper torque is being applied and maintains gauge requirements associated with the ISO 9001 Quality Standard.