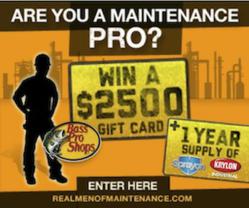 We want to make sure everyone takes notice of the Real Men of Maintenance and the work that they do.
Cleveland, Ohio (PRWEB) July 24, 2012
As the innovation leaders in the development of lubricants, chemicals and paints & coatings for the Industrial & MRO space, Sprayon Products and Krylon Industrial are proud to introduce a new contest designed to recognize today's Industrial Maintenance Professional: The Real Men of Maintenance Promotion.
"Today's Industrial Maintenance Professionals are the people everyone counts on to keep the facility running at peak performance. They do all the jobs that many people take for granted... the jobs many people don't even notice," said Leo Chippy, Product Manager at Sprayon Products. "Well, we want to make sure everyone takes notice of all the Real Men of Maintenance and the work that they do."
Through September 30, 2012, users can nominate deserving Industrial Maintenance Professionals for the Real Men of Maintenance Promotion at RealMenofMaintenance.com. The quality of the nomination story will go a long way towards determining the winner.
"We're looking for nominations that set candidates apart. Things like how the candidate solved a specific problem that affected the facility in a particularly inventive manner. Or perhaps how the candidate has implemented continuous improvement processes like 5S, Kanban, Lean, etc. The better the nomination story, the better chance a candidate will have of winning" said Shelley Hoffman, Product Manager for Krylon Industrial.
The top three (3) Real Men of Maintenance will win a $2,500 Gift Card to Bass Pro Shops plus a year's supply of Sprayon & Krylon Industrial maintenance products for their facility. Once a candidate has been approved for display on the site, their friends and co-workers will even have a chance to help them win by voting.
"We want everyone to know how hard industrial maintenance professionals work and the difference that they make... because they deserve it," added Hoffman. "So if you're one of the Real Men of Maintenance or know someone who deserves the honor, visit RealMenofMaintenance.com and enter today."
About Sprayon® Products:
Established in 1968, Sprayon has a long-standing leadership position as the brand that delivers reliable, innovative solutions for the most demanding industrial and MRO applications. For over 40 years our goals have centered around the development and continuous improvement of products and services which will help our customers: Preserve & protect their valuable equipment to prevent costly breakdowns & downtime; Become more efficient... more productive... more profitable; Work smarter... safer... better; Promote the continuous improvement of all their processes.
Our understanding of the complex needs of the industrial and MRO space has been the catalyst for the proven performance which Sprayon delivers across a broad range of Lubricants, Electrical & Electronic Products, Cleaners & Degreasers, Mold Release Products, Welding Products and Specialty Application Products. For more details about our complete product offering and our unique 5S Visual Management Sprayon System, please visit Sprayon.com.
About Krylon® Industrial:
With over 60 years as the global leader in industry-specific paints and coatings, Krylon Industrial produces the highest-performing liquid coatings and is still the world's largest manufacturer of durable aerosol paints. Designed for the harshest industrial environments, our comprehensive line of innovative products and services is ideal for industrial plants and facilities in the marine, petrochemical, utilities, automotive, heavy equipment manufacturing, pulp & paper, government, transportation services, pharmaceuticals, metals, rubber and plastics and aviation industries. Whatever the application, Krylon Industrial's proven products will make your job easier and your facilities safer. Our reputation depends on it.
Krylon Industrial works hard at providing tough coatings for tough conditions and the protection you need for industrial environments. Our breadth of coatings and technologies are easy to apply with excellent, durable coverage providing preventive maintenance and energy saving solutions. With Krylon Industrial, you can successfully maintain the surfaces and machinery in your facility while saving time money and protecting your assets for years to come. For more details about our complete offering please visit KrylonIndustrial.com.