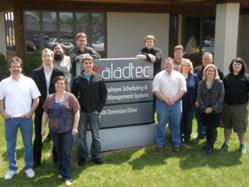 With over 800 public safety departments as customers, Aladtec now serves more than 50,000 first responders through their employee scheduling and workforce management systems.
St. Paul/Minneapolis, MN (PRWEB) July 18, 2012
Growing and maintaining customers in a tough economy is testament to the value of Aladtec's online employee scheduling and workforce management software created specifically for the Public Safety Industry.
Their flagship product EMS Manager was developed in 2002 to help a Wisconsin EMS agency alleviate their scheduling headache by creating an online system. Over the years EMS Manager has had many updates and today is a powerful tool for hundreds of agencies and thousands of workers.
FIRE Manager was developed a few years after EMS Manager due to popular demand from fire departments. Most recently Zanager was added to the fleet. It is an ideal online scheduling and workforce management system for police departments and other companies such as hospitals and nursing homes. All Aladtec products feature a mobile web app which allows administrators and users to access the system while on the go.
Typically, the number one reason an agency invests in one of Aladtec's subscription based software products is to save time and money. "It used to take me 24-72 hours to find coverage for an open shift. Now I just send the "Find Coverage" request through EMS Manager and I have people wanting to pick up that shift in about 5 minutes," states Mike Kiser, Field Supervisor, Anniston EMS, Anniston, Alabama.
Many agencies notice a significant savings in overtime costs after implementing an Aladtec product. Johnston County EMS, Smithfield, North Carolina reported cutting their overtime costs by about $10,000 per month (around 30%). "After one year of using EMS Manager we received an estimated overtime savings of $40,000, a 70% reduction in unscheduled overtime," indicates Andrew Blackwood, EMS Sergeant, Queen Anne's County DES EMS, Centerville, Maryland.
In addition, shift substitution tracking and certification tracking has been of issue in many states so more and more public agencies are turning to Aladtec products to assist them with state tracking requirements.
Aladtec continues to be dedicated to the public safety industry and is proud to have been a part of it over the last decade.
Aladtec, Inc. is a provider of web-based software solutions for online employee scheduling and workforce management applications. The company's flagship products, EMS Manager and FIRE Manager, are leaders in the public safety sector. Together with their newest product, Zanager, they serve over 800 EMS agencies, fire departments, police departments and other businesses. Over 50,000 employees use Aladtec's online employee scheduling and workforce management products. Aladtec is headquartered just outside the Minneapolis/St. Paul metro area in Hudson, Wisconsin. For more information, visit http://www.aladtec.com.
# # #
CONTACT INFORMATION:
Aladtec, Inc.
906 Dominion Drive
Hudson, WI 54016-4538
(888) 749-5550 Toll-Free
(715) 690-2300 Phone
(801) 406-5550 Fax
mellissa(at)aladtec(dot)com
info(at)aladtec(dot)com | http://www.aladtec.com