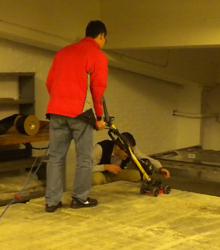 Arlington, MA (PRWEB) July 18, 2012
The International Association for Bridge Maintenance and Safety (IABMAS) recently held their 6th International Conference in Stresa, Italy (July 8-12), and Infrasense President Dr. Kenneth Maser participated by presenting recent bridge deck testing research carried out in collaboration with Northeastern University. Corrosion is one of the most significant bridge deterioration mechanisms, and the conference's hundreds of presentations reflect this fact. Several of the 555 papers presented at the conference concentrated on the detection and effect of chlorides and corrosion in reinforced concrete bridge decks, which are some of the more challenging aspects of bridge deck inspection and testing.
Infrasense has contributed to the ongoing research of Northeastern University in the characterization and detection of bridge deck deterioration. Dr. Kenneth Maser, president of Infrasense, has served as a consultant in the field of nondestructive testing in concrete bridge decks, with a focus on ground penetrating radar (GPR) technology. The goal of the research was to establish a clearer connection between the data generated by the GPR equipment and the different aspects and stages of bridge deck deterioration. To achieve this goal, a full battery of testing was performed on in-service structures, controlled slabs specifically cast for corrosion testing, and slabs extracted from in-service structures during deck replacement projects.
A bridge deck is the most expensive component in a bridge's life cycle, and it is therefore crucial that accurate condition information is used to plan maintenance and rehabilitation. Vehicle-based high-speed GPR testing offers many advantages over traditional techniques; it's faster, safer, and more economical for the condition assessment of larger quantities of decks. However, the correlation between the results of GPR testing and other traditional testing techniques is not well understood; the research being performed at Northeastern University will help reveal relationships between ground penetrating radar and more commonly used techniques such as ultrasonic impact-echo (IE), half-cell corrosion potential (HCP), and hammer sounding.
The research has already yielded some significant results. Preliminary results have revealed that the spatial correlation between GPR and HCP is 90%, indicating the ability of GPR to detect corrosion activity in bridge decks. Additionally, the spatial correlation between GPR and IE testing for delaminations is 79%. The spatial correlation between HCP and IE testing was only about 76%, suggesting that there are areas of corrosion that have not yet become delaminated, and there are areas of delamination where corrosion activity has stopped. Additional research is being performed to further understand the relationship between GPR and corrosion measurements on different structure types and corrosion states.
About Infrasense, Inc.
Since 1987, Infrasense, Inc. has applied the most current technologies to the most difficult challenges in subsurface scanning. Infrasense's engineers are able to nondestructively extract critical information from a diverse range of structures. The firm has conducted research to advance the field of subsurface detection, while also providing valuable information to clients across the country. Learn more about Infrasense, Inc. and its services at http://www.infrasense.com.