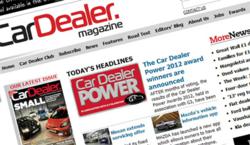 2012 will close with some very exciting deals for Trusted Dealers that will help take the brand further into the public eye and we look forward to working with more franchised dealers over the next 12 months to build the safest place to buy a car online
Harrogate, North Yorkshire (PRWEB UK) 20 July 2012
Online used car advertising channel Trusted Dealers were last night celebrating winning the Most Dealer Friendly Portal award at the prestigious Car Dealer Magazine Awards 2012.
The awards are voted for by over 1000 motor traders and the ceremony was held this year in the spectacular setting of Portsmouth's Spinnaker tower they recognise excellence in the industry in a number of categories.
Neil Addley, Trusted Dealers MD was delighted at the award for the website that is focused on generating leads for its Members as well as to promote the benefits to the customer of buying cars through franchised dealers:
"The digital used car market has developed enormously over the last decade , so bringing something genuinely new to the table has been an immensely rewarding challenge to undertake at a difficult time for the industry overall. Nonetheless, with the help and backing of our members, suppliers and partners in the industry we are pleased and proud that our efforts to provide accountable and cost-effective advertising have been recognised by the trade.
We'd like to extend our thanks to those who have helped us reach this point and who gave us this vote of recognition. 2012 will close with some very exciting deals for Trusted Dealers that will help take the brand further into the public eye and we look forward to working with more franchised dealers over the next 12 months to build the safest place to buy a car online"
The Most Dealer Friendly Portal award recognises Trusted Dealers' commitment to transparency and promoting the values of franchised dealers as a distinct entity within the car retail industry as the safest place at which to buy a used car. As of July 2012, the company represents nearly 40 of the UK's biggest franchised dealer groups and reaches over a quarter of a million car buyers each month.
For Editors
----------------

Trusted Dealers is a unique proposition in the used car market. Spurning the traditional business/advertiser model, it is owned by its members and works to provide the best possible results for all members through strategic deals with third parties as well as advertising through its own portal site.
*Since its inception at the start of 2011, Trusted Dealers has generated thousands of used car enquiries to its members and in many cases has already become the second largest source of leads.
*Through its 10 Points of Difference it aims to be the safest place for consumers to buy a car online.
---------------------------------------------------------------------------------------
For further comment, contact Neil Addley on: 01423 506272