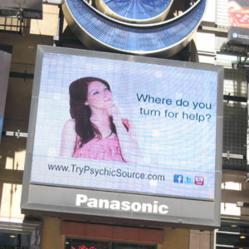 I believe this is the first time psychic services have been advertised on one of the major billboards in Times Square.
Langhorne, PA (PRWEB) July 19, 2012
M&Ms, Disney, McDonald's, Calvin Klein and… psychic services?
In a sure sign that psychics are leaving the New Age fringe and entering the mainstream spotlight, Psychic Source, the most respected psychic service since 1989, has launched a summer ad campaign on the CBS "Superscreen" in Times Square.
Once an hour, every hour, July through September, a 15-second spot about online psychics will be projected above the bustle of hundreds of thousands of Times Square visitors.
"I believe this is the first time we'll have psychic services advertised on one of the major billboards in Times Square," said Robin Atha of Neuton Group, who contacted Psychic Source about the ad after hearing about its success in mainstreaming psychic services through a new website.
"Advertising in Times Square fits perfectly with our mission to bring psychic services to more people, of all ages, beliefs, and walks of life," said Maryanne Fiedler, Marketing Director at Psychic Source. Ms. Fiedler views the Times Square ads as a natural extension of "the normalization of psychic services that's been taking place over the last few years, with Psychic Source in the lead."
According to Ms. Fiedler, "People aren't ashamed to admit that they talk to a psychic any more, and psychics can provide a truly valuable service." A service, she hopes, that many more people will seek once they see Psychic Source surrounded by so many beloved and mainstream brands.
*****
About Psychic Source:
Founded in 1989, Psychic Source is the nation's oldest and most respected psychic service. Psychic Source's advisors are experts in astrology, horoscopes, numerology, tarot cards, clairvoyant readings, and many other psychic disciplines. Psychic Source believes in its community of authentic Psychics and stands behind the authentic psychic readings they deliver to clients. Visit them online at http://www.psychicsource.com.
For more information, contact:
Maryanne Fiedler, Marketing Director
maryanne(at)psychicsource(dot)com
215-953-8568