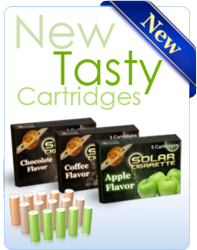 Get access to your own personal smoking buddy to help you stay committed and offer the VIP service you deserve while making the switch to a better lifestyle.
Miami, Florida (PRWEB) July 18, 2012
The electronic cigarette from Solar Cigarette has revolutionized the way of smoking for many long time smokers of tobacco cigarettes. The 2nd generation Solar Cigarette is the first and only electronic cigarette that infuses wellness with every puff. Even top celebrities are enjoying the electronic cigarette.
Smokers have battled nicotine cravings and weight gain along with the terrible effects that smoking has on the skin but the Solar Cigarette helps smokers avoid those terrible downsides of smoking with the use of their coenzyme (CQ10) vitamin packs.
According to SolarCigarette.com. "Coenzyme Q10, also known as CoQ10 or Vitamin Q, is one of the most promising tools in the anti-aging arsenal. Research has proven that COQ10 benefits include playing a role in the treatment and prevention of a host of age-related disorders."
Read more at: solarcigarette.com
The company has also added the "Youth-Phoric" cartridges to their electronic cigarette arsenal
that helps smokers lose weight and provide smokers with added energy throughout the day. Smokers who use the Solar Cigarette vitamin packs can choose to have nicotine in their smoking experience or choose to take the healthier alternative which can help them lose weight with every single puff.
Discover How To Get A Complimientary Sample Of The Youth-Phoric Solar Cigarette