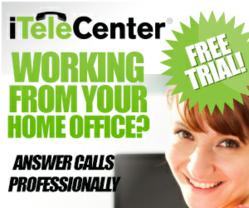 Piscataway, NJ (PRWEB) July 20, 2012
iTeleCenter has seen a large increase in use of its toll free voicemail amongst the work-at-home mom segment. More mothers are opting for work-at-home gigs in order to keep their young children out of daycare thus increasing their need for a home business communications solution.
In order to protect the privacy of their home and mobile numbers, many women in this segment are advertising and implementing a toll free number through companies like iTeleCenter. Whether they are working in network marketing, direct sales, or a small private business, a system like this handles all of their communications needs.
The system allows them to look like a much larger company, handles multiple calls with no busy signals, and can be programmed to forward calls to any number thereby reducing the need to be physically at home throughout the day. This flexibility is a much-needed perk in the daily lives of women with young kids.
In addition to fowarding calls, taking messages and also playing recorded informational messages to callers, the system also removes the necessity to own a fax machine. The online fax sending and receiving capabilities reduce the cost as well since there is no need for paper, ink or toner, or the actual cost of the machine itself.
It's no wonder that the work-at-home mom segment is choosing a system like iTeleCenter to streamline their day-to-day operations.
About iTeleCenter
iTeleCenter was founded in 1992 by entrepreneur Paul Champaneria who wanted to build a company that catered to the needs of virtual companies, direct salespeople, affiliate marketers, real estate professionals, and all forms of home-based or small businesses. iTeleCenter is a virtual phone system that provides individuals with the ability to utilize toll free phone numbers, locally based numbers, or vanity numbers, with call forwarding and voicemail that make professional life a little easier. With the best in customer care and service, along with the latest and most innovative features, it's a must have for professionals who want to compete on a regional or national level, whether it's a one-man operation or a million-dollar corporation.