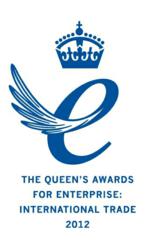 It is a tremendous achievement by everyone connected with the Company as this is the second time we have won the award in recent years
Accrington. Lancashire (PRWEB) July 18, 2012
The Queen's Award for Enterprise: International Trade 2012 has been awarded to Lancashire-based fibreglass tube supplier, Langtec Limited. Honouring outstanding UK companies and encouraging British business development, the Queen's Award for Enterprise are rewarded to the winners of three separate categories: Sustainable Development, Innovation and Sustainable Development.
Langtec Limited manufacture electrical and thermal insulation products, mainly in tubular form, and are the leading name in composite tubes. Over the years they have grown to become one of the world's foremost producers of composite glass tubes for use in the welding torch industry. Langtec products are used in the aerospace industry across Europe, America and in a myriad of industries where electrical or thermal insulation is required.
Fibreglass tube manufacturer Langtec Limited won their Queen's Award in recognition for the significant growth in exports in the last three years. In 2011, overseas sales accounted for 78% of turnover representing an additional £1m p.a. turnover since 2009 and a 66% growth in export sales.
'The increase in Langtec's exports has resulted in the creation of jobs too,' says Lee Parnell, the sales manager responsible for retailing a range of fibreglass tube components and carbon fibre tubes across a range of industries. 'Over the last three years our employees have increased from 28 to 49. We have formed a strong and very capable team, and it's them we have to thank.'
The Queen's Award is remarkable too because this is the second time carbon fibre tubes manufacturer Langtec have been awarded the same accolade, first claiming it in 2006. Six years later, Langtec now export to more than 20 countries – including America, Canada, Mexico, Brazil, Europe, South Africa, Thailand, Indonesia, South Korea, India and New Zealand.
'The Company is delighted and honoured to have achieved this prestigious award. It is the result of a real team effort and is a wonderful reward for all the hard work by all our employees,' says managing director of the carbon fibre tubes manufacturer, Andrew Turner. 'It is a tremendous achievement by everyone connected with the Company as this is the second time we have won the award in recent years.'
The Queen's Awards are the highest accolade in the UK for successful businesses, made annually by Her Majesty The Queen assisted by trade unions, industry and commerce experts, government representatives and the Prime Minister.
'Our employees can be rightfully proud of their contribution in putting Langtec at the forefront of our industry and the Award marks that achievement in the best way possible,' says Bob Berry, development director.
Carbon fibre tube manufacturer Langtec Limited started trading in 1940 in London. In 1989 the Company moved from its location in Crawley, West Sussex to its present location on the Altham Business Park in Lancashire. The current directors bought the company in a management buy-out in 1998. The Company's focus is in producing carbon fibre tube components and quality insulating tubes for supply to a global market and uses a network of agents and distributors overseas.
Winners of the Queen's Award receive a range of benefits, including an invitation from Her Majesty The Queen to attend a reception at Buckingham Palace, extensive press coverage and Worldwide recognition.
'It is also recognition that a small manufacturing company in this corner of Lancashire can compete on a world market,' says managing director Andrew Turner. 'It just goes to show what an excellent team can achieve,'
'If you're a business owner, I'd strongly advise you to submit an entry on behalf of your own company,' says Lee Parnell, who retails carbon fibre tube and composite tubes worldwide. 'This award is brilliant recognition for all of the hard work everyone has put into making us as efficient as we can be whilst still providing a quality product to our growing market of global customers. The closing date for entries for the 2013 Awards is the 28th September 2012, so there's no better time than now to get your entry in- it could be your team and your company at Buckingham Palace next year!'
To submit your company for consideration for a Queen's Award, search online for the Queens Award for Industry.
This press release is part of an on-going search engine marketing campaign by web design Bolton company Vizcom