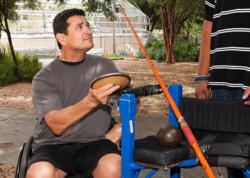 Some of the best health care in the world is right here at the VA hospital. There are a lot of caring individuals working for the VA and they're out there for us."
San Antonio, Texas (PRWEB) July 18, 2012
Local paralympian and San Antonio native, Gabriel Diaz De Leon is packing his bags now for the trip of a lifetime. He is thrilled at the opportunity to travel to London next week along with five other individuals including The Honorable Louis B. Susman, United States Ambassador to the United Kingdom of Great Britain and Northern Ireland, and Brandi Chastain, 2-time Olympic gold medalist for Soccer.
The group will attend the Opening Ceremony with First Lady, Michelle Obama, meet with U.S. athletes, and encourage American children to be active in their daily lives.
Mr. Diaz De Leon, a graduate of John Jay High School in San Antonio, is an enrolled Veteran at South Texas Veterans Health Care System. He first got involved in the Department of Veterans Affairs' national games and special events after his injury in 1984.
In 1988 he traveled to South Korea where he competed against other paralympians in track and field events. Since then, he's competed in Greece and Australia. This year, he coached paralympians from the San Antonio area in events like discus, shot put and javelin.
"(Participating in the games) has made me more aware of what I'm capable of doing and what I can achieve by staying active and being out in society," Diaz De Leon states. He says he "wouldn't have gotten started with (paralympic) sports if it wasn't for the Recreation Therapists like Jose Laguna." He particularly appreciates the care provided by Dr. Trbovich in the Spinal Cord Injury Unit.
When asked what advice he has for Veterans in the San Antonio area, Diaz De Leon said, "Some of the best health care in the world is right here at the VA hospital. There are a lot of caring individuals working for the VA and they're out there for us."