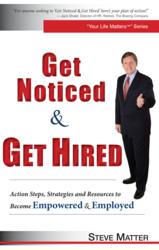 Learn how to stand out on paper and in person.
Mission Viejo, CA (PRWEB) July 20, 2012
Millions of people are still out of work and struggling in this tight job market. Job competition is fierce to "Get Noticed and Get Hired". The majority of job applicants don't know how to write a résumé that is structured to capture the attention of the employer. TV and news reports are filled with stories about people who have sent out hundreds of résumés without getting a single interview. In his new book, veteran corporate manager, Steve Matter, has delivered a workbook filled with tactics, tools and recommended readings to help job seekers "Get Noticed & Get Hired". The opening paragraph of a résumé needs to grab the attention of the employer just like the opening paragraph of a good book needs to grab the reader's attention. Most managers spend an average of 30 seconds scanning résumés to see if the applicant is a viable candidate. The applicant's skill sets and experience need to be articulated and be in alignment with the job position in the opening paragraph.
This book is more than just writing a dynamic résumé. It connects with the unemployed on many levels for the journey back to the workplace. "Get Noticed & Get Hired" covers getting through the emotions of job loss, building a support team and plan of action, networking with Social Media and directly person to person, writing a magnetic résumé that attracts employers, multifaceted preparation for your interview, learn how to interact with different management personality styles, decide whether to remain an employee or explore opening a business and rebuild confidence and attitude. "Get Noticed & Get Hired" will help job seekers stand out on paper and in person.
About the Author: Steve Matter has held national and regional leadership positions with some of the largest financial services firms in the country. His responsibilities have included: team management, hiring, recruiting, training and coaching. This book guides you through the logic, strategies and tactics Steve used to find his new job after his own episode of unemployment in 2009.
Press Contact:
Name: Steve Matter
Company: Back 9 Communications, LLC
Website: http://www.getnoticedandgethired.com
Phone: 949-697-6939
Email: steve(at)getnoticedandgethired(dot)com
© 2012 Back 9 Communications, LLC