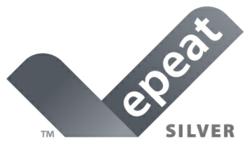 We're committed to sustainably producing ... hardware that is easy to disassemble for end of life recycling and it includes PCs that have open architecture so that their usage can be extended with an easy upgrade
Portland, OR (PRWEB) July 20, 2012
CTL has announced six new EPEAT Silver Registered products. Four of the newly certified products are from their desktop line: the Meridian GM15, Meridian GC15, Meridian GW14, Meridian GW15, and the other two are the CTL W350 and W130 business class notebooks. All of these models also meet the EPA's Energy Star criteria; yet, their second generation Intel® Core™ processors ensure that users are not compromising power or performance. The lightweight and powerful CTL PC W130 and W350 business class notebooks are designed especially for mobile professionals and their internet and security features make it possible to work from anywhere without losing functionality or compromising sensitive information.
EPEAT® stands for Electronic Product Environmental Assessment Tool, and is the definitive global registry for greener electronics. EPEAT was designed to provide an environmental assessment tool for purchasers and provide public recognition for innovative electronic products that reduce environmental and health impacts.
The EPEAT registry currently includes desktops, laptops/notebooks, workstations, thin clients and displays (computer monitors). In 2012, EPEAT will begin to cover imaging equipment and televisions, and server and mobile devices will be the next product categories to be covered.
CTL has a long history of offering EPEAT registered products including monitors, all-in-one computers, desktops, and laptops. The EPEAT system rates electronic products against a range of environmental performance criteria. Products must meet all required criteria in order to be registered in EPEAT at the Bronze level. They may then be registered as Silver or Gold based on the percentage of optional criteria they meet above that baseline. In order to receive an EPEAT Silver rating, products must meet all of the EPEAT criteria plus additional environmental standards. EPEAT Silver is a challenging rating to receive and maintain and represents CTL's commitment to sustainability and to producing environmentally friendly products.
"We're committed to making best PCs, laptops and monitors for our customers. But that commitment isn't just about raw performance. We're committed to sustainably producing environmentally progressive hardware. This includes hardware that is easy to disassemble for end of life recycling and it includes PCs that have open architecture so that their usage can be extended with an easy upgrade years from now," says Mike Mahanay, CTL General Manager of Sales & Marketing. "Registering products that meet the stringent EPEAT criteria helps customers to make environmentally informed purchase decisions."
CTL registers products to EPEAT criteria within the categories listed below. These categories reflect environmental attributes that cover the full lifecycle of electronic products:
•Reduction/elimination of environmentally sensitive materials
•Material selection
•Design for end of life
•Product longevity/life extension
•Energy conservation
•End-of-life management
•Corporate performance
•Packaging
The Meridian GM15, Meridian GC15, Meridian GW14, Meridian GW15, and CTL PC W350 and W130 business class notebooks join other CTL products, including CTL EPEAT Silver LED Monitors and other CTL EPEAT Silver PCs on the EPEAT registry. All are available for order now at http://www.ctl.net.
About CTL
Founded in 1989, CTL™ designs and manufactures computer products including desktop and mobile workstations, LED Monitors, and high-performance servers. CTL™ also manufactures specialty devices including ruggedized tablets, slates, and the HDMI Android Micro Computer. CTL's brands include the popular 2go PC™. Headquartered in Portland, Oregon with offices in Asia, CTL™ and their partners supply North American consumers, government agencies, and many of the most recognized corporate brands.