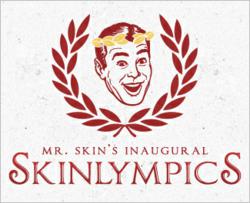 Mr. Skin will be giving out Gold, Silver and Bronze medals to the top competitors in each Skinlympic event.
Chicago, IL (PRWEB) July 19, 2012
The human body in motion is a beautiful thing, and never has it been so beautiful as the international assemblage of sexy nude celebs Mr. Skin has gathered for his inaugural Skinlympics, the nude celebrity Olympics sponsored by Astroglide personal lubricant.
Mr. Skin's team of nudity experts has scoured his amazing archive of over 31,000 movies and TV shows from all over the world and has compiled over 100 clips in 21 categories of sexy female athletes breaking a sweat--in the buff.
Among the categories and competitors:
Archery- Launched July 15
Alice Arno (France), Countess Perverse (1974)
Blaze Starr (USA), Blaze Starr Goes Nudist (1960)
Evelyne Buyle (France), L' Affût (1992)
Evan Suicide (USA), Suicide Girls Must Die! (2010)
Gretchen Mol (USA), Boardwalk Empire
Yara Lex (Brazil), Lana - Königin der Amazonen (1964)
Equestrian- Launches July 22
Betsy Russell (USA), Private School (1983)
Bo Derek (USA), Bolero (1984)
Amy Locane (USA), Carried Away (1996)
Jenny Wright (USA), Young Guns II (1990)
Lisa Comshaw (USA), The Killer Inside (1996)
Klaudia Koronel (Philippines), Tuhog (2001)
Diving-Launches July 29
Jaime Pressly (USA), Poison Ivy 3 (1997)
Sophie Marceau (France), Pour Sacha (1991)
Beverly D'Angelo, (USA) Vacation (1983)
Portia De Rossi (Australia), Women in Film (2001)
Sean Young (USA), A Killer Within (2004)
Ursula Andress (Switzerland), The Sensuous Nurse (1975)
Mr. Skin has even added a category that you definitely won't find at London 2012, Handball (Launches August 5), where nude stars show their prowess in wrapping their five fingers around a shaft and tugging away. You know, milking the lizard. Pulling the taffy. Choking the chicken. Get the picture?
Mr. Skin will be giving out Gold, Silver and Bronze medals to the top competitors in each Skinlympic event, and he's asking viewers to help decide who will take home the gold. Viewers can participate simply by going to the Skinlympics page (http://www.mrskin.com/skinlympics), watching the FREE Skinlympic clips on each event page, and voting for their favorites. It's that simple.
Every vote enters you to WIN an iPad 3 and one of 10 Mr. Skin Prize Packs consisting of Mr. Skin's Skintastic Video Guide and a Mr. Skin T-shirt. Every vote is another chance to win, so help Mr. Skin SKINspire a generation by voting in his inaugural Skinlympic Games!
If you'd like more information on this topic and/or to book Mr. Skin for an interview, contact Pete McMurray at (312) 933-5963 or by email at Pete(at)mrskin(dot)com.
About Mr Skin and MrSkin.com
Mr Skin is the world's foremost authority on celebrity nudity. His website - MrSkin.com - is the #1 online resource for celebrity nudity news and reviews. MrSkin.com attracts more than 8 million users every month who come to experience the site's vast library of celebrity nudity material - more than 20,000 actress bios, 30,000 movie and TV show reviews, plus over 200,000 photos and videos. Mr Skin is one of the most sought-after guests in radio and The Mr Skin Minute can be heard every week on The Howard Stern Show. MrSkin.com played a pivotal role in the blockbuster Hollywood comedy Knocked Up (2007). The Mr Skin Skinpire has been profiled in The New York Times, The Wall Street Journal, USA Today, Playboy, Maxim, The Chicago Tribune, The Chicago Sun-Times, and The New York Post. Mr Skin has also appeared as a celebrity nudity expert on VH1, E!, BBC, and Comedy Central. Be sure to follow Mr. Skin on Facebook and Twitter.