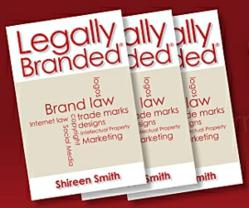 there is a world of difference between suggestive names and names that describe a product or service. Business owners should know that suggestive names are desirable brand names, and that descriptive names should be avoided at all costs
London (PRWEB UK) 26 July 2012
Azrights Solicitors is pleased to announce that pre-publication copies of Legally Branded, are available for review. The general release is on September 11th, with the book currently available for pre-order on Amazon.
In her book, Legally Branded, lawyer Shireen Smith, founder of Azrights Solicitors, a niche IP and Internet law firm, gives essential guidance to small business owners on the laws relevant to brands and online business.
'I wrote the book as there are currently no accessible books for business owners on the legal aspects of branding' Shireen said 'For example, there is a world of difference between suggestive names and names that describe a product or service. Business owners should know that suggestive names are desirable brand names, and that descriptive names should be avoided at all costs'
Using insights from the book, business owners will be better equipped to avoid common problems, such as having to rebrand for infringing on the rights of others, or having inadequate branding that fails to serve their long term entrepreneurial dreams.
The book addresses:

how to avoid infringing on the copyright, and design rights of others
the most effective ways to use domain names and search engine optimisation
why it's important to 'own' names, logos, slogans, designs and innovations, and how to go about this
how to retain the rights you need when engaging staff or outsourcing
when to avoid making information public so you don't lose valuable rights
how to manage your reputation in the digital word-of-mouth environment of social media
how to recover domain names registered by others which incorporate your brand name
what not to do if you want to avoid litigation for passing off or infringing on others rights
how to create and maintain a successful online brand
Shireen Smith is an experienced lawyer in the field of Intellectual Property and Internet law. Before founding Azrights Solicitors, she had extensive experience both in private practice and in industry, having held positions at Coopers & Lybrand, Reuters and Eversheds. Shireen completed a Masters degree in IP law at London University's QMW in 1996, when QMW was one the foremost place to study the subject. She has written numerous articles on IP branding issues, including contributing a chapter to Bloomsbury's recent publications Reputation Management Building and Protecting Your Company's Profile in the Digital World. Shireen has also delivered Masterclasses in IP branding at LSE's Entrepreneurship unit and delivered workshops at the British Library's Business and IP Centre for two years between 2008 and 2010.
The British Library has been booked as the venue for celebrating the publication of Legally Branded. It is an appropriate venue given that Shireen used to give workshops at the BIPC. At the book launch Shireen Smith will be signing copies of the book and will also give a brief talk introducing the book. She will be joined by some special guests, who will be announced at a later date.
As well as the launch at the British Library, there will be a virtual launch accessible to people wherever they are in the world. A live video stream from the main event itself is on the cards, as is a podcast interview of the author to be released in the week leading up to the launch.
The details of the events are still being planned, and in the meantime, save the date in your diary and join Shireen, either virtually or in person, on the 11th September to celebrate the launch of Legally Branded.
For additional information or further news about the release of Legally Branded please contact Shireen Smith on 020 7700 1414 or visit LegallyBranded.co.uk