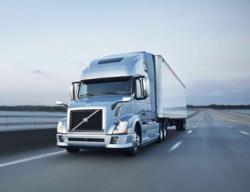 Volvo is proud to sponsor Women in Trucking because of its commitment to safely improving the lives of professional female drivers of our nation's roads," said Magnus Koeck
Plover, WI (PRWEB) July 18, 2012
Women In Trucking Association's influence extends to Scandinavia. The Elmia Lastbil 2012 International Trade Fair (http://www.elmia.se) for the transportation industry has been attracting visitors to Elmia, Jonkoping, Sweden, since 1983. Last year, nearly 40,000 visitors attended the event and next month's show is expected to cover more than five acres of exhibits, demonstrations, seminars and competitions.
This year, thanks to Volvo Trucks North America, a member of Volvo Group (http://www.volvogroup.com), whose headquarters are in Sweden, Women In Trucking President/CEO, Ellen Voie, will be giving an international perspective to attendees of the Trade Fair. Bill Rehn, CEO of the The Vocational Training and Working Environment Council (http://www.tya.se), a Stockholm based association for education, training and security for people employed in the Swedish transport industry, invited Voie to speak.
"Our efforts to increase Sweden's driver workforce is urgent, and our need to better understand how to attract and retain female drivers is a factor," Rehn said. "For this reason, we have invited Ellen to speak at the Elmia Lastbil 2012 event and share the challenges women face in America and the accomplishments of the Women In Trucking Association in addressing these issues," he added.
Volvo, which has a large presence at the Elmia Lastbil 2012, agreed to sponsor Voie's trip to Sweden. "Volvo is proud to sponsor Women in Trucking because of its commitment to safely improving the lives of professional female drivers of our nation's roads," said Magnus Koeck, vice president of Marketing & Brand Management at Volvo Trucks North America. "As a global company, we are also honored to help broaden Women in Trucking's mission to other parts of the world - such as Sweden and the rest of Europe - where professional women truck drivers face similar issues."
Volvo Trucks North America is part of the Volvo Group (http://www.volvogroup.com), one of the world's leading manufacturers of trucks, buses and construction equipment, drive systems for marine and industrial applications, aerospace components and services, and one of the world's leading producers of heavy-diesel engines (9-16 liter). The Group also provides complete solutions for financing and service. The Volvo Group, which employs almost 118,000 people, has production facilities in 19 countries and sells their products in more than 180 markets. Volvo Group sales for 2011 amounted to nearly $47.8 billion. The Volvo Group is a publicly held company headquartered in Gothenburg, Sweden. Volvo Shares are listed on Nasdaq OMX Nordic Exchange and are traded OTC in the U.S.
Women In Trucking Association, Inc. was established to encourage the employment of women in the trucking industry, promote their accomplishments and minimize obstacles faced by women working in the trucking industry. Membership is not limited to women, as sixteen percent of its members are men who support the mission. Women In Trucking is funded by its members and the generous support of Gold Level Partners; Bendix Commercial Vehicle Systems, LLC. Daimler Trucks NA, Frito-Lay NA , Great Dane Trailers, Hyundai Translead and Walmart and Silver Level Partner, C. H. Robinson Worldwide, Inc. For more information visit http://www.WomenInTrucking.org or call 888-464-9482.