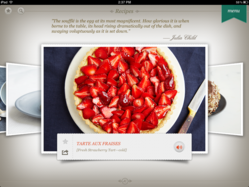 Mastering the Art of French Cooking remains one of the seminal cookbooks of all time. It's hard to improve on a classic, but with the updates we've added, readers will feel as if Julia is with them in the kitchen. -Tony Chirico, President Knopf Doubleday
New York, NY (PRWEB) July 19, 2012
Alfred A. Knopf announced today the availability for download of the first app from Julia Child. Mastering the Art of French Cooking: Selected Recipes is now available for download on iPad® and on the award-winning NOOK Tablet™ and NOOK Color™ by Barnes & Noble, for an introductory price of $2.99 (list price is $4.99).
"Mastering the Art of French Cooking remains one of the seminal cookbooks of all time," said Tony Chirico, President of the Knopf Doubleday Publishing Group. "Our goal was to make this standard work available to the growing generation of mobile and tablet readers. It's hard to improve on a classic, but with the updates we've added, readers will feel as if Julia is with them in the kitchen. And who could be better company?"
What's included:
-- 32 recipes from Mastering the Art of French Cooking
-- Color photographs of each finished dish
-- 30 clips from "The Way to Cook" videos
-- Audio anecdotes from Judith Jones, Julia Child's longtime editor
-- French pronunciations by Judith Jones of the names of dishes
-- Facebook sharing
-- Grocery lists
-- Rare photographs of Julia Child
-- Resource information (kitchen equipment, cutting tips, wines, stocks, definitions)
Mastering the Art of French Cooking was a labor of love for Julia Child. Published more than fifty years ago, it took her over a decade to write because she often tested recipes ten to fifteen times. Throughout the development of the book, she had the home cook very much in mind, and with this app, those home cooks will learn exactly how to master those same techniques from Julia herself.
The 32 recipes from Julia Child's magnum opus were culled by her editor Judith Jones. "The recipes provide home cooks with the basic tools they need to create a dish. Whether it is braising or roasting or flambéing, the recipes give a culinary framework in addition to providing a window into the book as a whole."
Julia Child was born in Pasadena, California on August 15, 1912. She was graduated from Smith College and worked for the OSS during World War II in Ceylon and China, where she met Paul Child. After they married, they lived in Paris, where she studied at the Cordon Bleu and taught cooking with Simone Beck and Louisette Bertholle, with whom she wrote Mastering the Art of French Cooking (1961). In 1963, Boston's WGBH launched The French Chef television series, which made her a national celebrity, earning her the Peabody Award in 1965 and an Emmy in 1966. Several public television shows and numerous cookbooks followed. She died in 2004. Next month, she would have celebrated her 100th birthday.
Mastering the Art of French Cooking: Selected Recipes is the first app from Alfred A. Knopf Publishing and is the latest product from Random House Digital and Smashing Ideas, a partnership aimed at adapting existing publishing brands into meaningful digital experiences and developing original content specifically for the app channel.
Alfred A. Knopf was founded in 1915 and has long been known as a publisher of distinguished hardcover fiction and nonfiction. Its list of cookbook authors includes James Beard, Jacques Pépin, Lidia Bastianich, Madhur Jaffrey, Marion Cunningham, Nancy Silverton, Suzanne Goin, Joan Nathan, Claudia Roden, Edna Lewis, and Marcella Hazan. Alfred A. Knopf is an imprint of the Knopf Doubleday Publishing Group, a division of Random House, Inc., whose parent company is Bertelsmann AG. (http://www.aaknopf.com)
Contact to receive a copy of the app: Sara Eagle / Alfred A. Knopf / 212.572.2195 / seagle(at)randomhouse(dot)com