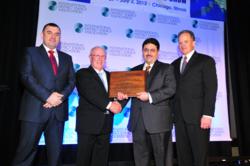 Boston, MA (PRWEB) July 18, 2012
The International District Energy Association (IDEA) presented its 2012 System of the Year Award to Qatar Cool on July 2 during ceremonies at the association's 103rd Annual Conference & Trade Show in Chicago, Illinois. The annual System of the Year Award is the top honor IDEA can bestow on a public or privately-owned district energy system. The Award recognizes exemplary system efficiency and environmental stewardship, outstanding performance in the areas of safety and reliability and overall commitment to excellence in customer service and industry engagement.
A panel of IDEA-member judges selected Qatar Cool as this year's winner for its operation of the West Bay system in Doha, Qatar, which earned high marks in all ratings categories. "Since it was first awarded in 1992, the IDEA System of the Year Award has come to be associated with the best of the best," said IDEA System of the Year Selection Committee Chairman Ray DuBose, Interim Executive Director for Facilities Services at the University of North Carolina at Chapel Hill and former IDEA Chair. "We have recognized some truly outstanding district energy systems, operating at very high efficiencies with flawless service records and very high customer satisfaction reviews. On behalf of IDEA, I would like to congratulate Qatar Cool for meeting those same standards and rightfully joining the ranks of our prior winners."
Chair DuBose continued, "Qatar Cool demonstrated numerous company achievements in the categories of system performance, energy efficiency, reliability, availability, environmental performance, employee health and safety, community involvement and contributions to advancing the industry. Since operations first began in 2006, Qatar Cool has experienced explosive growth, averaging nearly 50% growth in capacity each year, while maintaining an operating efficiency of 97.5% with 100% system online reliability and customer availability. Qatar Cool's district cooling system is projected to displace about 250,000 metric tons of carbon dioxide emissions per year, equivalent to taking over 44,000 cars off the road."
In accepting the award on behalf of Qatar Cool, CEO Fayad Al Khatib said, "It is an honor to be recognized by our peers at IDEA. Your support inspired us to improve and become a better organization, thus allowing us to better represent and expand this industry. Recognizing the importance of being a dynamic provider of quality, customer-focused services, a belief that tradition can work with technology and that abundant cooling doesn't have to abuse the environment; we cast the foundations for Qatar District Cooling Company in 2004. With a lot of hard work and many sleepless nights, we have realized our vision. Our key to success is a team of loyal employees who are the backbone of our company and the reason behind our performance, making sure that the right technologies, methodologies and tools are in place."
"Qatar District Cooling Company offers state of the art district cooling service while maintaining environmentally-friendly and energy efficient operations. Today, we have two fully functional plants in West Bay and one plant on The Pearl Qatar, the largest district cooling plant in the world. Combined, we have a total production capacity of nearly 200,000 Tons with more than 125,000 Tons connected to over 100 developments."
"This great honor we are receiving today would not have been possible without the support of Qatar Cool's Chairman, Board of Directors, stakeholders, employees and many of you, our IDEA colleagues and friends. I would like to thank Qatar Cool's team for their achievements and I would like to thank IDEA for your vote of confidence and trust in our system. I am proud and honored to be part of the IDEA community and I am confident that our best years lie ahead."
Past winners of IDEA's System of the Year Award include Enwave Energy Corp (Toronto); District Energy St. Paul; Northwind Phoenix; Con Edison Steam Operations (New York City); Metro Nashville District Energy System and Constellation Energy Project & Services Group Inc.; University of Cincinnati; University of Missouri-Columbia; Seattle Steam Company; Cornell University; Trigen Energy Baltimore; University of California, Los Angeles; NRG Energy Center Minneapolis; and Energy Systems Co., Omaha, Neb.
IDEA is an independent, non-profit industry association formed in 1909 with headquarters in Westborough, Massachusetts that currently represents the interests of approximately 2000 members worldwide involved in operation, design, construction and optimization of district heating, district cooling and CHP (cogeneration) systems, with a majority of members in North America, as well as Europe, Middle East and Asia Pacific.
Qatar Cool is a private sector joint venture company that aims to be the leading provider of reliable, efficient and environmentally friendly district cooling services. Qatar Cool strives to be more environmentally aware and energy efficient by allowing a substantial reduction in energy consumption as well as carbon dioxide emissions.