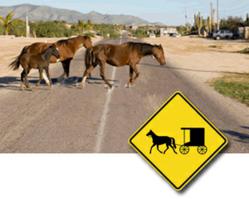 "We specialize in animal crossing signs, and horse crossing signs benefit animals, drivers, and pedestrians," said Rivka Fogel, Manager of MyParkingSign.com. "The signs are resilient, reflective, and ideal for areas near farms."
Brooklyn, NY (PRWEB) July 20, 2012
RoadTrafficSigns.com, a supplier of traffic and road signs, is announcing a new line of horse crossing signs. These new signs protect drivers and animals in areas that have high concentrations of horses.
Horse crossing accidents make headlines due to the severity of the outcomes. An upstate New York news site syracuse.com reported the incident of a New Hampshire man's rig being hit from behind by an 18-wheeler in East Central Mississippi. Two of the four horses were killed. Signs are excellent solutions for preventing potential disasters.
The new horse crossing signs stand out for miles on the road. The signs have "horse crossing" messages and black graphics of horses and carriages against yellow MUTCD diamond signs. The signs clearly indicate that horses or carriages with horses are present or likely to cross the road. The selection also includes "Horse Crossing Ahead," "Slow Down," and "Caution" messages. Additionally, RoadTrafficSigns provides supplemental Crossing Signs for horses, with directional arrows or warning indicators like "next 2 miles" or "Xing ahead."
Countless custom templates are available to personalize crossing signs. The customization wizards allow users to enter and play with text, choose a clipart from the RoadTrafficSigns library or upload graphics. The graphics are easy to reduce or increase online, and professionals can tweak custom art at no extra cost.
RoadTrafficSigns uses top quality materials for inexpensive prices. The horse crossing signs are made from heavy duty aluminum and printed with 3M screen printed inks to last for up to fifteen years outside. "We specialize in animal crossing signs, and horse crossing signs benefit animals, drivers, and pedestrians," said Rivka Fogel, Manager of MyParkingSign.com. "The signs are resilient, reflective, and ideal for areas near farms."
For more information on Horse Crossing Signs, visit http://www.roadtrafficsigns.com/Crossing-Signs/Horse-Crossing-Signs.aspx.
About RoadTrafficSigns.com
RoadTrafficSigns is the leading online distributor of MUTCD traffic signs. The signs are made with long-lasting 3M ink and offered in multiple reflective grades. Customers can create signs using convenient customization wizards.
About SmartSign
SmartSign is one of America's fastest growing e-commerce companies and parent of RoadTrafficSigns.com, MyParkingSign.com, as well as more than 50 other sites. The company manufactures and distributes a wide range of signs, tags, mats, and labels. In the past, many consumers have found it hard to find, hard to design and hard to order signs with the right message. By positioning "signs as solutions," SmartSign has taken an entirely different approach. Through highly targeted, content-rich, and authoritative retail sites, the company provides specific solutions to specific problems, such as finding the right traffic sign. SmartSign is widely recognized for its quality construction; its signs come with a 3M® warranty and outlast fast-fading, ink-jet signs. Other SmartSign advantages include fast and free shipping, the Web's largest range of designs, and a best-price guarantee.