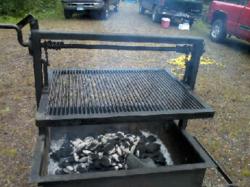 plans include instructions for the construction of a cowboy grill that can be used with either wood or charcoal
Duluth, MN (PRWEB) July 19, 2012
Gizmoplans, a leader in do-it-yourself building plans, has released new plans for the construction of a cowboy campfire grill. Grilling enthusiasts, campers, and others can enjoy the taste of steaks, burgers, hotdogs, seafood and more with a open pit cowboy grill that they can build themselves. The grill is just the latest design to be released by Gizmoplans and imparts great open pit flavor to all types of cuisine.
The presence of a grill gives people the excuse to invite friends and family over to enjoy good food and good conversation. Grills can be found in just about every home, testifying to their popularity and now, with the help of Gizmoplans, people can build a cowboy campfire grill that they can even take with them on vacation. The campfire grill is perfect for cabins, family reunions, groups of friends, camping and other outdoor parties.
Located under the tab for BBQ grill plans on Gizmoplans' website, the plans include instructions for the construction of a cowboy grill that can be used with either wood or charcoal. Features of the large outdoor grill include:

26X24 grilling area
Support for pots and kettles
Open fire pit
Adjustable grill height
Built-in handle for ease of moving
6" wheels
The detailed open pit grill building plan also comes with a list of tools that people will need to have access to, such as a metal cutting band saw, drill press, saber saw with metal cutting blades, hand drill with bits, welding machine, and a cutting torch. Many of these tools can be rented from local sources or customers can also choose to have a local welding shop, or fabricator, create the grill's pieces for them. Either method will still effectively save customers money since they will not have to pay the full price of a manufactured campfire grill.
The plans for the outdoor open pit grill can be downloaded directly from Gizmoplans' website so that customers can start work on construction immediately. Customers can also mail their orders into the company. For more information on the new campfire grill plans please visit http://gizmoplans.com/cowboy-campfire-grill-plans.
About Gizmoplans:
Gizmoplans is an online informational website that provides businesses and individuals with downloadable DIY solutions. These plans can be used to build projects for recreation, hobbies, recycling, industry, woodcrafts, metal fabrication, alternative energy and much more. Gizmoplans is also a hub for businesses and individuals to upload and sell their own plans, patterns, how-to ebooks and more. This online marketplace can benefit both the purchaser and the seller in the DIY community. To get more information on DIY plans and DIY projects, visit Gizmoplan's website at http://gizmoplans.com/.