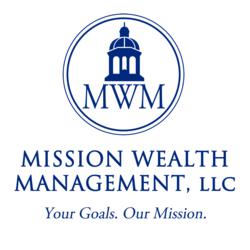 Fees are a part of investing and they should be transparent so the client can make informed decisions. -Seth Street, President & Co-founder of Mission Wealth Management, LLC
Santa Barbara, CA (PRWEB) July 18, 2012
Mission Wealth Management, LLC shows hidden fees in bond yields and reveals what some brokers may not be telling investors.
Client advisors, financial planners, and risk managers at Mission Wealth Management, LLC routinely meet clients who have bonds held with brokerage firms where they believe they are getting a "deal" at a certain visible cost per trade. What brokers oftentimes omit are the spreads being built into the purchase or sale of the bond.
Especially at large and traditional wirehouse firms, the firm and their brokers get a portion of the commission. Brokers are not required to disclose the commission or the markup they charge their clients. These undisclosed commissions may equate to tens of thousands of dollars over a span of years in client accounts with a high amount of bond activity.
Oftentimes, brokers and firms mark up the cost of a bond by two or three dollars per bond when the actual cost to transact a bond can be as low as five to ten cents. What may seem like a small commission rate at two to three dollars per bond, can quickly add up when buying hundreds of thousands of dollars in bonds. This markup can quickly add up to hidden commissions to the broker and the firm at a cost to the investor.
"Of the hundreds of clients that come through the Mission Wealth doors, few, if any, knew they were being charged these commissions," said Seth Streeter, President and Co-Founder of Mission Wealth Management, LLC. "Fees are a part of investing and they should be transparent so the client can make informed decisions."
Bond transactions are required by law to be posted for public viewing. Professionals can easily sift through the data but for investors, figuring out the undisclosed commissions through settlement tracking websites is not necessarily easy. This may be the reason why this practice is so prevalent.
About Mission Wealth Management, LLC
Mission Wealth Management, LLC was founded on a vision to empower affluent families to pursue their financial dreams. When built, they saw a demand for something different from what other financial services firms were providing. To meet this demand, Mission Wealth Management, LLC was founded on the principles of objective advice, proactive financial planning, and coordination with other professional advisors, including accountants, attorneys, and bankers. Mission Wealth Management, LLC does not sell any internal products; therefore, the recommendations they make are solely in the client's best interests. Their client-centric planning process acknowledges clients and their needs to keep them on track and provide peace of mind. Mission Wealth Management, LLC's team coordinates with professional advisors to ensure effective integration of all financial decisions. Today Mission Wealth Management, LLC helps hundreds of families achieve their financial dreams by managing their wealth. For more information on Mission Wealth Management, LLC please visit http://www.missionwealth.com.
Securities offered through National Planning Corporation (NPC) member FINRA, SIPC. Advisory services offered through Mission Wealth Management, LLC (MWM), a Registered Investment Advisor. NPC and MWM are separate and unrelated entities.
# # #